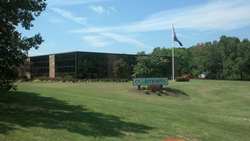 This support from EcomNets will strengthen our business and educational communities, and secure the next generation of leaders in our region
Danville, VA (PRWEB) January 15, 2015
The Danville Pittsylvania County Chamber of Commerce is excited to announce that EcomNets is a Presenting Partner of this year's Young Entrepreneurs Academy (YEA). YEA is an innovative program that transforms local middle and high school students into real entrepreneurial successes.
YEA, an after-school program that meets weekly at Danville Community College, is a groundbreaking program that takes students between the ages of 11 and 18 through the process of starting and launching a real business or social movement over the course of an academic year. By the end of the class, students own and operate fully-formed and functioning businesses, which may be carried on after their graduation from the program. YEA! aims to teach students at an early age how to make a job, not just take a job. It is the ONLY pre-college program developed by an entrepreneur, at a university, with support from a major entrepreneurial foundation, the Kauffman Foundation, and the United States Chamber of Commerce.
"YEA Presenting Partners demonstrate deep commitment to business creation and the entrepreneurial spirit," commented Laurie S. Moran, CCE, President of the Danville Pittsylvania County Chamber of Commerce. "EcomNets will play a vital role in our dynamic community to make a great contribution to the YEA! program and its students in all aspects."
"The active involvement and generous support from our premier partners will directly help transform local students into real business owners," says Gayle Jagel, CEO and Founder of the Young Entrepreneurs Academy. "This support from EcomNets will strengthen our business and educational communities, and secure the next generation of leaders in our region."
EcomNets is a world class Information Technology Provider Company providing highly specialized solutions to meet emerging complex technology challenges faced by vide range of companies. EcomNets owns a 21000 Sq Feet data center in Danville region which has generated employment for the local talent and is expected to contribute more in maintaining the talent Quotient of the region.
As a privately owned IT firm, EcomNets evolved to be an efficacious business model in the last 15 years since its inception. "There is a pressing need to catch them young and steer the right talent in the right direction. I am glad that EcomNets is given this opportunity to be a part of this promising effort," pondered Raj Kosuri, Founder & CEO who evolved as a successful entrepreneur by testing waters in hard ways. He emphasized the importance of entrepreneurial inputs at early and right age for the benefit of the economy of the country.
EcomNets
EcomNets is a world class provider of Cloud Computing and Enterprise IT Solutions and creator of the Verdio line of energy efficient computers. EcomNets is actively helping enterprises and solution providers to adopt cloud technologies and leverage full benefits of private, public and hybrid cloud through a set of services, methodologies and tools. EcomNets works with customers to help them understand potential drivers for cloud adoption and define a supporting business case to realize the full benefits of operating on a cloud environment.
Danville Pittsylvania County Chamber of Commerce
The Danville Pittsylvania County Chamber of Commerce is a business organization with approximately 700 members in the Danville/Pittsylvania County region. The Chamber works to energize the region by creating exceptional business growth and profitability in a vibrant, customer-centered culture.
The Chamber sponsors the YEA program in Danville and Pittsylvania County.
The Young Entrepreneurs Academy (YEA)
The Young Entrepreneurs Academy (YEA) is a groundbreaking and exciting year long class that transforms middle and high school students into real, confident entrepreneurs. Throughout the class, students develop business ideas, write business plans, conduct market research, pitch their plans to a panel of investors, and actually launch and run their own real, legal, fully formed companies and social movements. Founded in 2004 at the University of Rochester with support from the Kauffman Foundation, the Young Entrepreneurs Academy today serves thousands of students in communities across America. For more information about the Young Entrepreneurs Academy, please call 585.272.3535 or visit http://www.yeausa.org
Start as a student and finish as a CEO!©