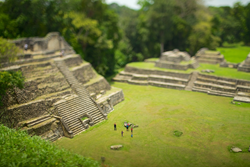 Our Mayanists and guides are looking forward to helping people learn more about this fascinating ancient civilisation.
San Ignacio, Belize (PRWEB) January 08, 2015
Recent reports that researchers have solved the mystery of the ancient Maya civilisation's sudden decline have sparked an interest in Maya-focussed vacations in Belize, according to The Lodge at Chaa Creek, a popular Belizean eco-resort.
Chaa Creek co-owner and GM Lucy Fleming said that since reports appeared in the Huffington Post and in other media, there has been a spike in enquiries about Maya-themed vacations.
"Interest in our Maya-focussed vacation packages, as well as tours and excursions to Maya temples and archaeological sites, has steadily grown over the years, but in the last week, we've seen a sudden rise in enquires, which we attribute to the recent media attention on the research conducted at the Blue Hole about the sudden decline of the ancient Maya civilisation," Ms Fleming said.
She added that there has been a rise in queries about Belize's Great Blue Hole, a massive sinkhole located near the Meso-American Barrier Reef that runs along the Belizean coastline.
"We also saw a surge in interest about the Blue Hole and, putting two and two together, assume that the recent reports have rekindled interest in both that natural wonder and Belize's Maya legacy. It's good news for us, and for the many guides, tour operators and others engaged in working with Belize's many archaeological sites,' Ms Fleming said.
A Huffington Post article, posted on 1 January 2015, "Belize's 'Blue Hole' May Help Solve Mystery Of Maya Downfall" reported that Rice University researchers have collected evidence that they feel explains the sudden demise of the Maya, which occurred around 900 AD.
After studying variations in colour, grain size, and layer thickness at the Blue Hole and from the Belize Central Shelf Lagoon, they've been able to track rainfall levels and weather activity that suggests that there was a hundred year drought between 800 and 900 AD.
The researchers said that they also found that there were only one or two hurricanes every two decades in the two centuries leading up to A.D. 1000, as opposed to the usual five or six.
Their research also suggested that the Maya city of Chichen Itza, now a popular tourist destination in Mexico and another former thriving metropolis, was another victim of drought - this time between 1000 and 1100 A.D. when it declined and fell, Ms Fleming explained.
"They concluded that the area suffered a major, long lasting drought that the Maya were never able to recover from," she said.
Ms Fleming said that in addition to offering all-inclusive Belize vacation packages and tours with a Maya focus, Chaa Creek has for decades sponsored research within the 365 acre private nature reserve that the eco-resort is situated in.
"We follow Maya research quite closely at Chaa Creek's Belize Natural History Centre, so we were keen to hear about these latest findings. And now, to see how much interest it has generated among the travelling public makes it doubly exciting.
"We're expecting the sort of attention to Belize's Maya past and archaeological attractions that we had a few years ago after the film "2012." But at least this interest is based in science and fact, so our onsite Mayanists and guides are looking forward to helping people learn more about this fascinating ancient civilisation," Ms Fleming said.
The Lodge at Chaa Creek is a Belizean eco-resort set within a 365 acre private nature reserve in Belize, offering a range of tours and vacation packages catering to a variety of interests.
ENDS