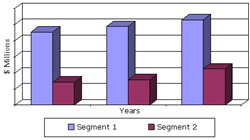 Global Market for Optical Network Components to Reach $7.6 Billion in 2019
Wellesley, Mass. (PRWEB) January 06, 2015
BCC Research (http://www.bccresearch.com) reveals in its new report on optical network components that the ongoing migration from lower speed to higher speed connections is providing optical network component suppliers with a recurring revenue stream. Optical network semiconductors will witness an increase from $6.4 billion in 2014 to $7.6 billion in 2019, registering a 3.2% rise in compound annual growth rate (CAGR). The result is that optic components will continue to be an area of prime interest to silicon suppliers.
Advances in wafer and silicon technology have enabled chip manufacturers to squeeze complex functions onto much smaller spaces. They have also been able to put increased functionality into these chips. As a result, optical components continue to be an area of prime interest for semiconductor suppliers. These new semiconductors offer users a number of benefits— more functionality, simpler deployment, and support for higher speed.
"Businesses and individuals have developed new applications to take advantage of high-speed, multimedia-friendly transmissions," says BCC Research analyst Paul Korzeniowski. "In the healthcare industry, high-speed optical connections are dramatically improving patient care. Medical imaging is becoming more granular and new applications are emerging. In the data center, optic connections are altering the design of IT systems. Consolidated systems are becoming more common and cloud computing will gain demand."
Optical Network Components: Global Markets analyzes and forecasts market trends in each segment of the optical semiconductor market, delineates technology trends, and identifies market leaders. Forecasts are presented for user requirements, current buying patterns, and expenditure trends from 2014 through the year 2019.
Editors and reporters who wish to speak with the analyst should contact Steven Cumming at steven.cumming(at)bccresearch(dot)com.
About BCC Research
BCC Research publishes market research reports that make organizations worldwide more profitable with intelligence that drives smart business decisions. These reports cover today's major industrial and technology sectors, including emerging markets. For more than 40 years we've helped customers identify new market opportunities with accurate and reliable data and insight, including market sizing, forecasting, industry overviews, and identification of significant trends and key market participants. We partner with analysts who are experts in specific areas of industry and technology, providing unbiased measurements and assessments of global markets. Recently selected as the world's greatest market research company, BCC Research is a unit of Eli Global, LLC. Visit our website at http://www.bccresearch.com. Contact us: (+1) 781-489-7301 (U.S. Eastern Time), or email information(at)bccresearch(dot)com.