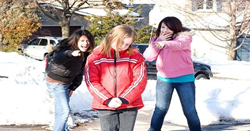 As with every new year approaching us, we cannot help but fear for the safety and sanity of children and teens facing school bullying and various sorts of abuse.
London, UK (PRWEB) January 06, 2015
From sectarian bullying to cyber bullying, sexual harassment and the need for more ethical education, NoBullying explores, in an article released today, what to expect when it comes to school bullying in 2015.
The truth is, which is sad to report, the state of School Bullying doesn't seem to be changing much when it comes to the New Year. Children, adults and teens are still seeing various types and kinds of soul shattering unkindness whether in the form of bullying in schools, at work or online.
It is expected that teens and children will continue to see more abusive actions and teachers sadly will continue to brush it off as "kids' play" or "boys will be boys". Anti Bullying school policies, while helpful, are still not enough to protect children and teens in schools and colleges worldwide and the need for stricter anti bullying laws still applies and the demand is still not met.
School security issues have been in the limelight for quite some time. Children and teens in urban middle and high schools, in particular, continue to suffer from problems with physical violence, cyber-bullying, drugs, sexual assaults and other safety issues. High school issues with bullying and drugs have taken a heavy toll on the standard of education and prompted a rise in student dropouts. Before enrolling their teen in a particular high school, parents should review the school carefully to see how they fare in resolving school issues and maintaining a high educational standard. By safeguarding their teen's education, parents can help protect their future.
Ethical training and cyber ethics continue to be controversial public school issues today. Although many schools consider the teaching of moral values a parent's responsibility, teachers can't help but get involved in ethical issues in schools, especially when faced with such problems as physical violence, verbal abuse and cyber-bullying. Many bullying issues stem from lack of training in moral education in the home. Children who are not taught consideration, kindness, respect and right behavior from wrong behavior at home will not demonstrate these values in the school environment. In fact, many school bullies come from backgrounds of violence and abusive behavior at home. For this reason, many schools are making an effort to tackle ethical issues in school counseling.
Ciaran Connolly, Co Founder of NoBullying says "As with every new year approaching us, we cannot help but fear for the safety and sanity of children and teens facing school bullying and various sorts of abuse. School bullying needs to be stopped with education, kindness and stricter laws."
He added that parents and teachers should make a point to educate the younger generations about the sad outcome of neglecting online safety and photos safety. According to Connolly, it is quite imperative to press for more firm laws condemning all acts of bullying and harassment.
NoBullying.com features many pages dedicated to parents, teens, teachers, health professionals as well as posts related to cyber safety and the latest news about law making concerning curbing Bullying worldwide as well as inspirational Bullying Poems and famous Bullying Quotes.
The website regularly updates its bullying statistics and cyber bullying statistics as it is essential to understand how widespread the bullying epidemic is. It also regularly runs cyber bullying surveys and questionnaires to get recent updated statistics on everything related to cyberbullying.
He also added that anyone suffering from bullying in any form or way can always find advice and help on the NoBullying website – but if anyone is suffering from severe bullying or cyber bullying, the best thing is to talk to someone locally – a parent, teacher or local organization that has been set up to help with specialized councilors to deal with this topic.