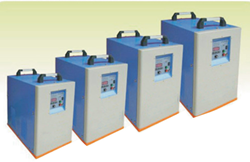 (PRWEB) January 07, 2015
Recently, DW-Inductionheating.com has introduced its induction heating power supply collection, and announced great discounts on this collection. All clients worldwide can enjoy the special discounts before Jan. 31, 2015.
The new collection includes many models with various specifications, and the company is proudly offering efficient ultra high, medium and high frequency solid state power supplies for melting brazing, hardening, forging and heating treatment ferrous and nonferrous metal alloys.
According to the senior engineer of the company, the power supplies range from 3.2 kw to 1000 kw. They monitor, control and regulate the operation of induction melting furnaces, forging furnace and heating coils while providing electrical power to the induction system.
Induction heating is popular now for its fast heating, high efficiency, energy saving and advantages in environmental protection, and it is regarded as a revolutionary heat treatment. As a well-known business in the field of induction heating, DW-Inductionheating.com knows well what product quality means for a business. Its induction heating power supplies are made with top quality materials.
"Our professional engineer team is ready for every possible question from our potential customers. We are really happy to announce the special offer. Discounted shipping costs are offered now as well. Please note the special offer will be valid until the end of this month." The CEO of the business says.
Customer satisfaction is a DW-Inductionheating.com's important part of its business. With a vast knowledge of craftsmanship and customer needs, the business has made a great success in the industry. The company strives to benefit its clients worldwide with its reliable products.
About DW-Inductionheating.com.,
DW-Inductionheating.com is a well-known supplier of useful induction heating machines. With an aim of helping worldwide people get high quality items at the lowest possible prices, the company often provides huge price cuts for its machines. For DW-Inductionheating.com, customer satisfaction is always the most importantly issue. All its products are made with durable materials.
For more information about the company's latest products, customers can just visit: http://www.dw-inductionheating.com/Induction-Power-Supply-60.html