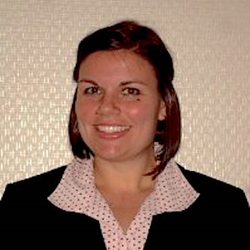 From the DonorDrive webinar we took away that we should add congratulatory communications for people who have reached certain milestones.
Cincinnati, Ohio (PRWEB) January 07, 2015
Each year DonorDrive awards a scholarship that sends a staffer from a deserving nonprofit to the Peer-to-Peer Professional Forum conference. Our scholarship for the 2015 conference goes to Brecka Putnam of CureSearch for Children's Cancer. In an interview that DonorDrive conducted along with Peter Panepento of Peer-to-Peer Professional Forum's Peer Review Blog, Brecka was excited to get the news: "I am so looking forward to attending." Brecka manages the CureSearch Ultimate Hike program, a single-day, 20-30 mile hike that uses peer-to-peer fundraising to raise funds and awareness for children's cancer: "We have four Ultimate Hikes a year and our participants raise an average of $3100 each."
The Peer-to-Peer Professional Forum conference is the world's largest event that focuses on peer-to-peer fundraising and will be held February 24-25, 2015 in Orlando. For professionals that manage peer-to-peer events like Brecka, the conference offers a tightly-focused curriculum with speakers (including DonorDrive's Ed Lord) workshops, round table discussions and the best networking in the peer-to-peer fundraising space. Brecka feels the networking will be one of the best parts of the conference: "I look forward to the opportunity to connect with others who do something similar to what I do, like marathons or century rides. It would be great for me to collaborate with them. Like all programs that require higher minimum fundraising levels, it's about how to get people over that hump. It's getting them to wrap their head around that big number to begin with."
Brecka recently attended a DonorDrive/Peer-to-Peer Forum webinar on motivating fundraisers that was hosted by Andrew Valainis, Operations and Rider Manager of Climate Ride: "From the DonorDrive webinar we took away that we should add congratulatory communications for people who have reached certain milestones, so we're adding that this year."
The conference will provide Brecka with the opportunity to dig deeper into what will improve engagement with her event participants: "I want to know how we keep them engaged. Is it to encourage them to come back as a fundraiser, or is it to volunteer as recruiter or coach? We want to know what other organizations are doing on that level." Brecka's scholarship award includes her flight, her accommodations and admission to the conference. The DonorDrive Team congratulates Brecka and looks forward to meeting her at the Peer-to-Peer Professional Forum conference in February.
About DonorDrive
Large and mid-size nonprofits increase their revenue with DonorDrive® Peer-To-Peer Fundraising software. With innovations like mobile-responsive fundraising pages and our industry-first Fundraising Motivation Engine®, DonorDrive makes giving from any device easy and turns your event participants into better fundraisers. Find out why Children's Miracle Network Hospitals, World Vision, Special Olympics, Doctors Without Borders and more of North America's most successful organizations depend on DonorDrive at DonorDrive.com.