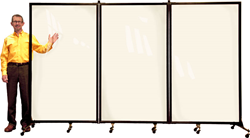 "Screenflex Clear Acrylic Room Dividers are a durable option where division and vision is needed"-Steve Bonesz
Lake Zurich, Illinois (PRWEB) January 15, 2015
Over the past few years, airports, schools, and businesses have reexamined safety procedures and protocols within their buildings. Many have discovered the importance of establishing designated boundaries for areas that are recognized and managed with a clear view to those walking in or nearby those areas. However, many face fiscal limitations with construction or found they have limited space in their existing facilities that are sometimes 15-20 years old.
In response to this growing need for a clear division, Screenflex Portable Room Dividers has created a sturdy clear acrylic portable room divider in two lengths; a 3'4" single panel unit or a 10'0" three panel unit. These freestanding units are made of 3/16" OPTIX® Acrylic surrounded by black anodized extruded aluminum channel framing for stability and structure.
"Our research has shown that acrylic is a safer option for clear panels versus glass wall partitions. Upon a forcible impact glass will shatter creating a greater risk where acrylic will fracture, but remain intact within the aluminum frame," comments Screenflex President John Maas.
In contrast to other dividers, Screenflex Clear Room Dividers arrive fully assembled and ready to use. Hinges connect the clear panels together allowing the unit to be arranged as a straight wall or to form a corner at the hinge. This makes it easy to create designated security areas and boundaries requiring control for security or safety purposes; such as group luggage storage, airport screening area, library study area or a break room to name a few. A secure locking option is available to connect the panels to additional clear units or to add to fabric or vinyl covered Screenflex Room Dividers.
Standard on every Screenflex Room Divider is self-leveling caster wheels Which provide exceptional stability on uneven floors. Once the unit is in place, the corner casters can be locked to secure the divider into position. Because the panels are 6'2" tall, they can easily roll through a standard doorway by a single person for another use or for storage.
"In addition to security applications, the clear divider is ideal for creating temporary areas that double as collaborative learning environments. The wet erase function is ideal for informal group discussions, presentations, and project work. The crystal clear moveable acrylic walls are an economical solution to a division need versus costly glass dividers", adds Mike McClure, Screenflex Vice President of Sales.
Screenflex Portable Clear Room Dividers can also serve as a safety barrier, a shield against drafts and noise, to create cooperative learning environments in the classroom, or funnel visitors in a certain direction. The clear divider can even shield manufacturing equipment from visitors while maintaining sight lines and create positive social interaction among users of private and public spaces.
Screenflex is the premier provider of high-quality portable room dividers and continues to be a trusted supplier among facility managers. To find out more, please visit Screenflex.com.