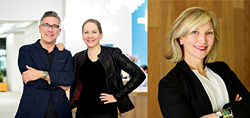 New York, NY (PRWEB) January 06, 2015
Gustavo Martinez, Worldwide Chief Executive Officer, J. Walter Thompson Company, today announced senior leadership moves designed to deliver on two strategic growth priorities: further strengthening key offices around the network and growing deep expertise in target verticals.
Lynn Power has been promoted to President, J. Walter Thompson New York. Power will partner with Adam Kerj, incoming Chief Creative Officer of J. Walter Thompson New York, to lead the agency's flagship New York office. Together they will be responsible for driving industry-leading creative work, and the overall strategic direction and growth of J. Walter Thompson New York.
"Adam and Lynn make an exceptional team," said Martinez. "They are the kind of leaders who will foster a creative, curious and collaborative culture, drive growth and further enhance our creative reputation, ultimately helping us to deliver on our mission to create pioneering solutions that build enduring brands and business."
Claire Capeci is being promoted to the newly created role of Global President, Retail, J. Walter Thompson. Capeci will lead a specialized retail discipline that leverages the company's deep experience in the category and extends and expands it around the world. In addition to her new global remit, Capeci will continue to lead the Macy's and Energizer businesses.
"Claire has been incredibly successful in growing and leading retail client relationships in the U.S., and has also been part of some of the agency's most award-winning and recognized work, for Energizer, Macy's and others," said Martinez. "This is a natural evolution of her role, as we have been leaning on Claire to drive innovation in the retail category for some time. She knows our network inside out, and is perfectly positioned to drive growth for this practice around the world."
Power and Capeci had previously held the titles of Managing Director, J. Walter Thompson New York. Both will continue to report directly to Martinez.
About Claire Capeci
Capeci has played an integral role in the agency's New York leadership team, as well as being Global Business Director for two of the agency's most pioneering accounts, Macy's and Energizer. On Macy's, Capeci served as a force behind some of the most exciting marketing executions for the brand — including the expansion of the holiday classic Macy's Yes, Virginia into a successful franchise, which earned a Gold Lion at Cannes in 2013 and an Effie award in 2014. Energizer has gained praise with the viral hit "Mow the Lawn" for the launch of the Trimstyle, earning a Gold Effie award and Silver Jay Chiat award in 2010. Prior to joining J. Walter Thompson in 2007, Capeci was EVP, Managing Director at Lowe Worldwide. She is a past Mediaweek All-Star and in 2012 was named one of the "30 Most Powerful Women in Advertising" by Business Insider.
About Lynn Power
Power joined J. Walter Thompson in March 2014 from Arnold New York, where she served as President and Managing Partner. She has been building brands and leveraging creativity as a business tool for the past 25 years, having worked on some of the world's most iconic brands, including American Express, Clinique, Hershey's, Gillette and L'Oréal. In the five years she ran Arnold New York, she led many new business wins, including 23andMe, Alberto Culver, Del Monte, Kohler and Sanofi. Power also helped drive Arnold's momentum to be named Comeback Agency of the Year by Ad Age in 2010, as well as to Ad Age's A-List in 2011. Previously, she held roles at BBDO, Grey New York and Ogilvy & Mather.
About Adam Kerj
Kerj will join J. Walter Thompson in early January from 360i, where he served as Chief Creative Officer. During his time as 360i's creative leader, he was instrumental in helping the agency earn the top digital agency title from Ad Age, Adweek, MediaPost and Mashable in 2014 and recognition as one of advertising's most innovative companies by Fast Company and Creativity. He brings more than 20 years of experience working alongside world-class brands such as P&G, Toyota and Oreo. Kerj has worked in Chicago, New York, Gothenburg, Stockholm and Copenhagen, developing an impressive track record of award-winning work throughout his career. He has garnered more than 50 of the most coveted international awards, including several awards from Cannes Lions, The One Show, The Webbys, Eurobest, The Clios and New York Festivals. Prior to joining 360i, Kerj served as Executive Creative Director and Founding Partner of Saatchi Sweden, now one of the most awarded agencies in the Saatchi network. Before that, he was Executive Creative Director and Founding Partner at TBWA Sweden, one of the top three most awarded agencies in the TBWA network.
About J. Walter Thompson
J. Walter Thompson, the world's best-known marketing communications brand, has been inventing pioneering ideas for the past 150 years. Headquartered in New York, JWT is a true global network with more than 200 offices in over 90 countries, employing nearly 10,000 marketing professionals. JWT consistently ranks among the top agency networks in the world and continues a dominant presence in the industry by staying on the leading edge—from hiring the industry's first female copywriter to developing award-winning branded content today. For more information, please visit http://www.jwt.com and follow us @JWT_Worldwide.