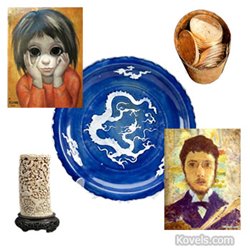 Cleveland, OH (PRWEB) January 09, 2015
Kovels Komments, the weekly eNews about antiques and collectibles from Kovels.com, lists their Top 10 stories of 2014 with some follow-up:
1. March 5, 2014: Finding Gold Coins: Good News and Bad News
A California couple took a healthy "golden" walk with their dog in 2013 and found eight half-buried cans of gold coins on their property. The coins date from the late 1800s and their value was estimated at $10 million+. In 2014, the couple decided to sell. The coins are now known as the "Saddle Ridge Hoard," named after part of the family's property. Kagin's, Inc., a California numismatic firm, is selling the coins through an arrangement with Amazon.com. You can buy one there. The couple is also keeping some of the coins for family heirlooms. (See Kovels' Komments Mar. 5, 2014 and Jun. 11, 2014)
2. July 9, 2014: Walter Keane Painting of Little Girl
A friend gave her daughter a pair of pictures of little girls with wide-open eyes as a gift in the 1960s. They were by an unknown French artist in the style of then-popular pictures by Walter Keane. They were cute but not by a famous artist and sold last year at auction for $1. If they had been real 1970s paintings by Keane, they could have sold for $50,000. A book and new movie tell the fascinating story of Walter and Margaret Keane – how Walter rose to fame taking credit for paintings that were actually created by his wife. (See Kovels' Komments July 9, 2014)
3. March 26, 2014: Chinese Plate, 600 Years Old, Tops $1 Million
The seller and the auctioneer thought it was a nice blue Chinese plate decorated with a white dragon – a donation to a Canadian auction to raise money for Toronto's Gardiner Museum. A mysterious and still-secret bidder travelled to Ottawa to bid against Internet and phone bidders when the price hit $250,000 (Canadian), and the price soared to $1.25 million ($1.12 million USD). The plate belonged to the donor's Austrian grandparents. (See Kovels' Komments Mar. 26, 2014)
4. April 23, 2014: Be Aware of the Ban on Ivory
All import and export of ivory from African elephants, except for "bona fide antiques," was banned by Executive Order from President Obama on Feb. 11, 2014. Existing laws are impacted by this ban, the enforcement of which falls to the U.S. Fish and Wildlife Service. Common sense made some very small steps in dealing with the new rules about old ivory, but they don't help collectors or dealers, just musicians. This is an ongoing story. (See Kovels Komments, June 11 and 24, May 28 and April 23, 2014)
5. April 2, 2014: Doorknob Collectors Beware
A new law in Vancouver, British Columbia, Canada, says lever handles are required on all doors and faucets in new housing construction. That means a doorknob can't be used on a front or inside door. Why? To make it easier for a person with a disability to open doors and turn on faucets. The city removed old Art Deco doorknobs from doors in the historic city hall built in 1936. (See Kovels Komments April 2, 2014)
To read the details of the remaining Top 10 stories of 2014, go to Kovels.com:
6. March 5, 2014: $12 Jug Sells for $100,000
7. February 26, 2014: Ball Mason Anniversary Fruit Jars
8. May 7, 2014: Beer Bottle Found With Oldest Message in a Bottle
9. April 9, 2014: Found! A Fortune in the Kitchen
10. January 8, 2013: The Latest Investment Among Chinese Collectors
About Kovels.com
Kovels.com, created by Terry Kovel and Kim Kovel, provides collectors and researchers with up-to-date and accurate information on antiques and collectibles. Kovels' Antiques was founded in 1953 by Terry Kovel and her late husband, Ralph. Since then, Kovels' Antiques has published some of America's most popular books and articles about antiques, including the best-selling "Kovels' Antiques and Collectibles Price Guide," now in its 46th edition. The Kovels' website, online since 1998, and free weekly email, "Kovels Komments," give readers a bird's-eye view of the market through the latest news, auction reports, free online Price Guide, a Marks Dictionary, readers' questions with Kovels' answers and much more.
Contact Information:
Liz Lillis
216.752.2252
Pr(at)kovels(dot)com