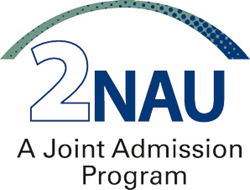 The 2NAU scholarship demonstrates how NAU values our transfer students.
FLAGSTAFF, AZ (PRWEB) February 03, 2015
Northern Arizona University (NAU) has awarded over $450,000 to students through its 2NAU scholarship over the last three years.
2NAU is a joint-admission program that allows students to be admitted to NAU while still finishing their Arizona community college courses. 2NAU students can access NAU student resources such as advising and library databases while pursuing an associate degree.
The 2NAU program is available through partnerships with most Arizona community colleges. It is designed for first or second semester community college students to guide them through their associate degree and seamlessly into their bachelor's degree program.
The 2NAU joint-admission program launched in Fall 2010. Since Fall 2011, NAU has offered exclusive scholarships to 2NAU students in hopes to ease the financial burden of transitioning to a bachelor's degree program.
As of Fall 2014, NAU has awarded eligible 2NAU students a total of $481,529. 2NAU students who have finished their associate degree and transitioned to NAU this semester have until March 1st to submit their community college transcripts to be eligible for the Spring 2015 scholarship funds.
"The 2NAU scholarship demonstrates how NAU values our transfer students," says Doug Small, Director of Strategic Partnerships and Business Development. "NAU works hard to make a bachelor's degree affordable for students and their families so that they can make a difference in their communities."
About The Extended Campuses of Northern Arizona University: For more than 30 years, the Extended Campuses of Northern Arizona University has delivered a respected, accredited and affordable university education to students wherever they want to learn. Non-traditional students, including working adults, are empowered to advance personally and professionally through a network of more than 30 satellite campuses throughout Arizona and extensive online options offering over 100 degrees, certificate and endorsement programs across various disciplines. NAU-Extended Campuses continues to introduce innovative educational options to fulfill the growing need for public administrators, health professionals, teachers, business experts and community leaders within the state of Arizona, and beyond. To learn more about The Extended Campuses at Northern Arizona University, go to http://www.nau.edu/extended.