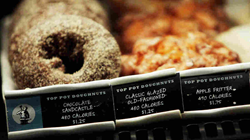 Allenhurst, NJ (PRWEB) January 06, 2015
If a New Year's Resolution of yours is to eat out less, you might want to save that for next year. Approved by the U.S. Food & Drug Administration, restaurants, supermarkets, and entertainment venues must include nutritional information on their menus within the year. The new rule was persuaded by New Jersey Governor Chris Christie in an effort to create consumer awareness throughout the country.
Along with listing calorie counts on the menu, consumers can ask for written nutritional information on total calories, calories from fat, total calories, saturated fats, trans fat, cholesterol, sodium, total carbohydrates, sugars, fiber and protein. Establishments that the rule applies to are: fast food restaurants, bakeries, coffee shops, restaurant-type foods sold in grocery stores and convenience stores, take-out and delivery foods, foods purchased at drive-through windows, self-serve foods, school vending machines, alcoholic drinks, and foods at places of entertainment including movie theaters and concert venues.
The bill to require menu labeling was first signed by then Governor Corzine in 2010. Action was since put on hold until the Food & Drug Administration signed off on the law in November 2014.
For more information, visit: http://www.nj.com/healthfit/index.ssf/2014/11/fda_issues_final_rules_for_calorie_counts_on_menus.html.
About Bielat Santore & Company
Bielat Santore & Company is an established commercial real estate firm. The company's expertise lies chiefly within the restaurant and hospitality industry, specializing in the sale of restaurants and other food and beverage real estate businesses. Since 1978, the principals of Bielat Santore & Company, Barry Bielat and Richard Santore, have sold more restaurants and similar type properties in New Jersey than any other real estate company. Furthermore, the firm has secured in excess of $500,000,000 in financing to facilitate these transactions. Visit the company's website, http://www.123bsc.com for the latest in new listings, property searches, available land, market data, financing trends, RSS feeds, press releases and more.