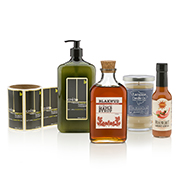 A new year brings with it new opportunities to increase sales and grow revenue.
Omaha, NE (PRWEB) January 13, 2015
After a successful 2014, Lancer Label, a high-quality custom label printing company, is back in full force for another year of helping distributors better serve their clients. The company recently unveiled its 2015 product catalog, which is now available to distributors that want to print high-quality labels for their clients. A digital version of the catalog is also live on the Lancer Label website.
"A new year brings with it new opportunities to increase sales and grow revenue," asserted General Manager at Lancer Label Fred Nelson. "Whether distributors are looking to produce repositionable calendars, promotional stickers or high-end product labels, Lancer Label's new product catalog is sure to contain the solution."
2015: The Year of the Laser Die Cutter
One of the big upgrades Lancer Label clients will see is the incorporation of new laser die cutter capabilities, which allows the custom printing company to cut labels into intricate, complex shapes. With the laser die cutter capabilities, the possibilities are only limited by distributors' imaginations.
With this new function, Lancer Label is able to bolster product offerings in several different ways. Distributors in 2015 will benefit through:

No fees for custom dies: With no extra fees for custom dies, distributors will be able to print projects for less money, which helps them achieve maximum profit.
Faster delivery time: Distributors no longer need to wait for a custom die, resulting in faster project turnaround times.
A better looking product: With laser die cut labels, clients can produce highly intricate labels that are sure to catch the eye of any prospective customer.
In addition to the new laser die cutter capabilities, Lancer Label is also happy to announce reduced prices on process color labels, which allows distributors to print vibrant, colorful labels for less money. Lancer has also expanded promotional product offerings to include everything from luggage tags to playing cards, giving distributors even more options to grow their revenue. Finally, the improved catalog layout makes ordering easier than ever.
Lancer's 2015 catalog is designed to empower creative distributors and their customers by giving them more freedom and flexibility to print the projects they envision. Of course, Lancer also aims to deliver these limitless possibilities while maintaining a high-level of quality and competitive prices as well.
For those distributors ready to place label orders, Lancer Label is offering 15% off catalog orders now through 2/27. Offer valid on new catalog orders at catalog published quantities. Domed decals and magnets are not included. Use promo code CATALOG15 at checkout. This offer cannot be combined with any other offers or promotions.
About Lancer Label:
With over 50 years of experience in the label industry, Lancer Label is dedicated to providing distributors quality label solutions from a supplier they can trust. Lancer Label offers the gold standard customer experience, quality products and versatile printing capabilities all at a great value. We make selling labels easy! For more information and to place orders online, visit LancerLabel.com. For the latest news and labeling promotional offers, find Lancer Label on Facebook, LinkedIn, Twitter and Google+.