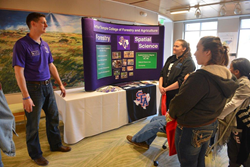 Fort Worth, Texas (PRWEB) January 06, 2015
The Botanical Research Institute of Texas (BRIT®) and the Fort Worth Stock Show & Rodeo will hold Agricultural College Day at BRIT Saturday, January 24, 2015 from 10 a.m. to 4 p.m. Fourteen representatives from leading agricultural colleges and universities will discuss class offerings, degree plans and financial aid opportunities. The event is open to the public and admission is free.
BRIT invites Dallas-Fort Worth high school students who are interested in earning university degrees in agriculture-related fields to attend. BRIT, located in Fort Worth's Cultural District, is next door to the Stock Show activities at 1700 University Drive.
"It allows students to see the big picture," director of BRIT SEED School Tracy Friday said. "They see the connection between soil, plants and livestock, which is just one part of the BRIT mission. That is why the partnership between the Fort Worth Stock Show & Rodeo and BRIT is so important."
The colleges and universities represented include: Texas Christian University, Texas Tech University, Texas A&M Commerce University, Angelo State University, Sam Houston State University, Oklahoma State University, Texas A&M University, Abilene Christian University, Stephen F. Austin University, Sul Ross University, Prairie View A&M University, Louisiana State University, Tarleton State University and New Mexico State University.
Tracy Cofield, agriculture science teacher at R.L. Turner High School, brought her students to the event last year and said she feels the event is important.
"I want the students to get a chance to see what colleges have to offer them first hand," Cofield said. "By having all the colleges under one roof, this enables the students to compare their options."
Potential degrees include Ranch Management, Animal Sciences, Soil Science, Landscape Architecture, Agribusiness, Horticultural Science, Plant Protection, Agricultural Communications and many more.
In addition to the university-related activities, trainers from Texas Instruments (TI) will be in the BRIT Classroom promoting the company's new TI-Nspire™ CX graphing calculator, and sharing ideas and activities for how to leverage the calculator's capabilities with career and technology education classes.
The event will hold student raffles every 30 minutes with gifts from local sponsors like Justin Boots, Fox Sports, Burgundy's Local restaurant, and Rosa's Café.
About BRIT
The Botanical Research Institute of Texas (BRIT) is a non-profit international research and education center that studies plants and teaches about their importance to the world. The institute is located in Fort Worth, Texas and provides a forum to convene conversations about critical environmental issues, highlighting the interconnected nexus elements of soil, water, plants, food, and energy.
BRIT sends scientists around the globe to investigate habitats, find rare and endangered plant species, and understand interactions between humans and the environment. Scientific inquiries also take place in BRIT's own backyard with researcher-led student education projects using the BRIT headquarters as a living laboratory for the study of North Texas ecology.
The institute's LEED platinum-rated building incorporates innovative energy- and water-conservation measures such as a living roof, solar panels, recycled building materials, and rain gardens and serves as a resource for the families, teachers, and students engaged in BRIT's multi-generational education programs.
Students from preschool through high school participate in hands-on experiments that spark a life-long love of the natural world and encourage careers in e-STEM (environmental-based science, technology, engineering, and math) fields. Meanwhile, gardeners, plant enthusiasts, and community members flock to BRIT for classes, workshops, events, and the popular summer Farmer's Market. BRIT programs lead the entire community to a greater understanding and appreciation of the value plants bring to life.
BRIT is open to the public Monday through Friday from 10 a.m. to 5 p.m. and on the first Saturday of each month from 9 a.m. to 1 p.m. Admission is free. For more information, visit http://www.brit.org.