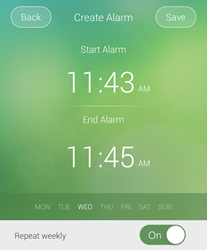 (PRWEB) January 08, 2015
A new app called Ringer Control by Broadshield, LLC helps users remember when to mute their phones. The app will be priced at $1.99 but is $0.99 for a limited time on the iTunes App Store and Google Play.
At any specified time, a notification tells the user to mute the phone's ringer. The notification is accompanied by an audible alert and vibration. On Android devices, the volume adjustment is automatic; iPhone users can mute their phones manually.
Setting a Ringer Control alarm is similar to built-in reminder functionality, but with additional options. The alert can repeat weekly, daily, or on selected days of the week. Multiple alarm times can be set with different repeat settings.
A separate End Time can also be set. At the time specified for the End alarm, another notification will be shown with vibration, informing the user that it's safe to turn up the phone's ringer again. Once again, the adjustment happens automatically on Android devices.
The Snooze feature for End Times is exclusive to the iPhone version. If Snooze is enabled, more reminders will appear every 10 minutes until the ringer is adjusted.
Ringer Control is useful for anyone who doesn't want to disrupt meetings, movies, meal times, or any other environment with calls and text messages.
"I was innocently watching a national news broadcast when one of the anchors was upset because he could not find his phone," said app creator Kevin LeStourgeon of Broadshield, LLC. "He further said that he would usually find the phone by dialing the number and hear it ring. But because he had the ringer muted during the time period of the broadcast, that was not possible. That one point in time brought the thought to my head to find out what it would take to have the ability to program the ringer of a phone to be off at a certain time and back on at another; thus Ringer Control was born."
About the Developer
Zco Corporation is a tried-and-true software development company that has been living and breathing technology for over 25 years. A proven and reliable vendor choice, Zco is passionate in its mission to create attractive, resilient products for its clients. Its powerhouse team, one of the largest in the world, was handpicked for specialties in mobile app development, enterprise software, and animation services. To learn more, visit http://www.zco.com or call 603.881.9200.