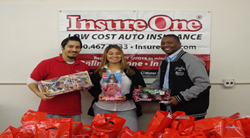 This is the season for giving and there is nothing better than giving back to the community in the form of toys for a deserving child. I am proud to be part of an organization that gives back in such a huge way! M.L. Sanders, Market Leader for Insure One
Chicago, IL (PRWEB) January 08, 2015
InsureOne, a leading provider of low cost auto insurance, is proud to have partnered with the Marines Corps Reserves of Chicagoland to make the Holiday Season merry and bright for families in need. InsureOne joined forces with Community Members and Business Partners in the Chicagoland area to meet their goal of donating over 2,800 toys for Chicagoland Families.
Since the Toys for Tots program began in 1947, Marine Corps Reserve Units have collected over 400 million toys and distributed those toys to more than 189 million children. Today, Toys for Tots is in over 750 communities and all fifty states delivering holiday cheer to more than 7 million children each year. Business Partnership Manager for InsureOne, Vito Galloro, stated "We are proud to announce that in 2014, once again, our partnership with Toys-For-Tots has helped assure that more than 2,700 children will be receiving a toy for Christmas. Thank you InsureOne customers, team members, business partners and the community for helping provide the gift of hope and joy during this holiday season"
InsureOne has served the Midwest by meeting the non-standard auto insurance needs of its community for over 25 years and hopes that by making a donation of over 2,802 toys it delivers the joy and magic of Christmas to Cook County Families.