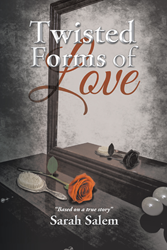 I hope my story can show others how I came to make my mistakes, so they don't make their own.
TORONTO (PRWEB) January 07, 2015
"Turning to face your problems is the best way to understand them and come to terms with them," said Rania Chmaysani. "Then you can rise above them, even if you can't leave them completely behind."
Chmaysani was at a serious crossroad in her life. As she sat down to write what could have ended up being a suicide note, she just kept writing and writing. What may have been a cataloging of the difficulties she had endured—read only by a few—has transformed into a project that encourages others to fight for their futures.
The combination of her goodbye note, personal diary and furious writing evolved into the novel "Twisted Forms of Love."
Her book follows the story of Hannah, a girl who has survived the violent civil war in Lebanon. Not only having to worry about the violence occurring in the streets, she also has to navigate the dangers of a physically, psychologically and sexually abusive family situation.
After Hannah immigrates to Canada, she meets a man who would grow into the most abusive man she has ever met—as well as become her husband.
"At first I just wrote all this to feel better. I felt myself changing while I wrote about all the things that had happened to me in my life." Chmaysani said. "But I've also learned that there are other abusers out there. Sometimes they can be nice and attractive at first. I hope my story can show others how I came to make my mistakes, so they don't make their own."
Chmaysani hopes to help other women avoid the relationships it took years for her to escape and to provide solidarity and hope to women who are surviving them.
For more information, visit http://www.twistedformsoflove.com
"Twisted Forms of Love"
By Sarah Salem
ISBN: 978-1-4969-3609-7
Available in softcover, hardcover, e-book
Available on Amazon, Barnes & Noble and AuthorHouse
About the author
Rania Chmaysani published "Twisted Forms of Love" under the pen name Sarah Salem. She is a daughter and mother of one. Since her early childhood, which she spent in Lebanon, she has enjoyed books and listening to stories. Sarah's first tale is based on her true story. She hopes to reach readers, knowing that many people can relate to her story.
For review copies or interview requests, contact:
Matt VanScoik
317.602.7137
mvanscoik(at)bohlsengroup(dot)com