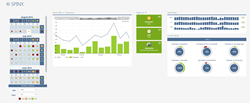 We know based on the number of our many large retail deployments that VIGIL Trends is gaining wide end-user attention, but it's always impressive when someone like Mr. Boucherle recognizes the value. Christie Walters, VP Sales and Marketing, 3xLogic
Westminster, Colorado (PRWEB) January 06, 2015
3xLOGIC, Inc., a leading provider of integrated intelligent security solutions, today announced that its newest Business Intelligence solution, VIGIL Trends, has earned the distinction of being named a Security Sales & Integration magazine Top 30 Security Innovation for 2014.
Longtime columnist and Top 30 veteran Paul Boucherle chose 3xLogic for this distinction remarking, "[3xLogic's] customization of 'just what I want to know, when I want to know it' delivered to different department decision makers adds new meaning to the concept of simple data mining and business intelligence."
SS&I explains that what makes this award list compilation so unique, meaningful and fun is that it focuses on actual technologies and associated endeavors rather than merely products, and there is no entry process. Rather, SSI's technical authorities objectively survey the security landscape throughout the year and pick 30 favorites from among hundreds of candidates.
What are the experts looking for? As the name implies, innovative solutions. That can best be defined as those that introduce brand-new technology or leverage existing technology to improve security contractors' installation, service or business efficiencies; and/or enable those providers to pursue new opportunities; and/or bring enhanced features or benefits to end users.
"Of course, we're quite pleased and proud to receive this recognition for VIGIL Trends," said Christie Walters, VP Sales and Marketing for 3xLogic. "We know, based on the number and growth of our many large retail deployments that this product is gaining wide end-user attention and accolades, but it's always impressive when someone with Mr. Boucherle's experience recognizes the value from the many hundreds of security products on the market."
In addition to the Top 30 Security Innovation Award, 3xLogic was recently informed that the company has also been singled out for the Best of Westminster Award in the Security Systems Services category by the Westminster, Colorado, Award Program.
This award is described as follows, "The Westminster Award Program identifies companies that have achieved exceptional marketing success in their local community and business category. These exceptional, local companies enhance the positive image of small business through service to their customers and our community."
About 3xLOGIC
A leader in the Security industry for more than 15 years, 3xLOGIC is known for providing complete, easy-to-use surveillance solutions that seamlessly integrate audio, video, and disparate data such as Access Control, License Plate Recognition (LPR), ATM, Point-of-Sale (POS), etc. 3xLOGIC's video surveillance solutions are engineered for scalability and are remarkably simple to install, use and service. Employing the latest advances in NVR, VMS, IP camera, analytic and Cloud technologies, 3xLOGIC delivers high-value business intelligence anywhere, anytime and from any device.
In 2014 3xLOGIC experienced rapid growth as the market shifted to a single-solution-provider model, the Cloud being an integral part of that paradigm. 3xLOGIC is harnessing the power of this technology, creating a viable product, ready for deployment today that takes the prospect of security to the next level. With the acquisition of Sonitrol's R&D resources from Stanley Security, 3xLOGIC is uniquely poised to revolutionize the system solutions business. The combination of audio and video alarm verification will virtually eliminate the false alarm epidemic so problematic in today's intrusion systems, all while being accessible from any device, anywhere internet access is available. For more information about 3xLOGIC, please visit our website http://www.3xlogic.com.
For Media Queries:
Bruce J. Doneff
Public Relations
843.476.3022
Doneff(at)verizon(dot)net
For 3xLOGIC:
Wendi Burke
Senior Director of Marketing
720.945.7966
wendi.burke(at)3xlogic(dot)com
###