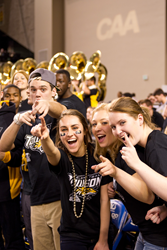 "We hope Baltimore basketball fans will come out to enjoy conference play, meet other fans, and get a chance to win great prizes."
Baltimore, MD (PRWEB) January 07, 2015
The Colonial Athletic Association (CAA) invites all hoops fans to attend a series of viewing parties the conference will host leading up to the 2015 CAA Men's Basketball Championship, which returns to the Royal Farms Arena March 6-9, 2015. The parties will be held at select Buffalo Wild Wings restaurants in the Baltimore area and feature CAA men's basketball conference play.
Buffalo Wild Wings locations in Columbia, White Marsh, Owings Mills, and Westminster will host special events where those attending have the chance to win exciting prizes. Door prizes including tickets to the CAA Men's Basketball Championship, Comcast SportsNet and Under Armour gear, CAA Under Armour T-Shirts, and CAA Championship golf balls will be given away throughout the night.
"We are excited to host these parties and get Baltimore buzzing about CAA basketball," said CAA Commissioner Tom Yeager. "It's a great opportunity for hoops fans to learn more about the upcoming CAA Men's Basketball Championship and get excited about March Madness. We hope Baltimore basketball fans will come out to enjoy conference play, meet other fans, and get a chance to win some great prizes."
With March Madness fast approaching, the CAA is thrilled to bring basketball fans together through these parties. For those interested in attending, check out the #CAAHoops Championship Central Events & Promotions Page. Information on viewing party dates, times, and locations are also provided below.
JMU vs. Drexel
When: January 15th at 7 pm
Where: Buffalo Wild Wings Columbia Location
6191 Columbia Crossing Circle
Columbia, MD 21044
Towson vs. Drexel and JMU vs. Delaware
When: February 10th at 6 pm and 8 pm
Where: Buffalo Wild Wings White Marsh Location
8200 Perry Hall Blvd.
Nottingham, MD 21236-4901
Northeastern vs. Hofstra
When: February 12th at 7 pm
Where: Buffalo Wild Wings Owings Mills Location
10391 Reisterstown Road
Owings Mills, MD 21117
Delaware vs. Drexel
When: February 26th at 7 pm
Where: Buffalo Wild Wings Westminster Location
404 Englar Road
Westminster, MD 21157-4852
Follow Us!
Facebook.com/CAASports – Twitter @CAABasketball – Instagram @CAASports – YouTube.com/CAASports
#CAAHoops & #CAABaltimore!