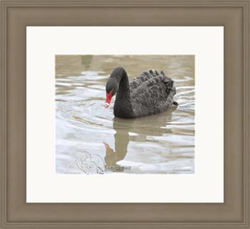 (PRWEB) January 07, 2015
Every month, American Frame, a web-based custom framing and art printing company, sponsors a contest for artists who sell and display work through American Frame's online Art Gallery. Winners are selected by customer votes on Facebook and receive a cash award and promotion through American Frame. This month's winner is photographer Joseph Dunning.
A self-taught photographer, Dunning has been honing his craft for nearly fifty years. He developed his first prints in a closet darkroom at age thirteen, but the technology available to photographic artists has come a long way since then, and about four years ago Dunning made the switch to digital.
The winning work, "Black Swan," was taken in an open-air zoo in Alamogordo, New Mexico in 2011. Its off-center composition, the play of light on the water and the swan's reflection in the surface all combine to form a contemplative image capable of holding our attention. Many framing treatments would suit this versatile work. A solid wood, gray finish frame from American Frame's Restorations Collection (31603 or 31615) would pair with a cream mat to make a serene, nature-inspired treatment. Include a bottom mat in red to echo the swan's beak and add vibrancy.
To contact Dunning or follow his work, connect with him on Facebook and visit his American Frame gallery.
About American Frame
American Frame provides professional-quality DIY custom picture framing supplies and fine art printing services at wholesale prices direct to the consumer. Its easy web interface allows customers to design a custom frame treatment for assembly in the comfort of their homes or studios. They can also upload a digital image to be printed on canvas or fine art paper and receive framed work ready to hang. All orders are handcrafted in Maumee OH and shipped within 2 business days. Family owned and operated since 1973. Love your art. Frame it right.™