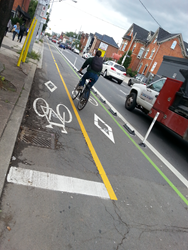 People accepted the new curbing design as if it was a familiar solution.
Hamilton, ON (PRWEB) January 07, 2015
In what locals are calling a "transformative project,", Hamilton, ON has created a 3 km cycle track along Cannon Street using Traffic Logix CycleLane curbing for a safer cycling route across Downtown Hamilton. The recently opened protected bike lane has been embraced by riders, with approximately 400 bicyclists using the track every day.
Cannon Street is a one way thoroughfare for auto traffic through an urban area with intersections dispersed throughout and few driveways. With a speed limit of 50 km, two busy auto lanes, and a third lane during peak hours with off peak parking, Cannon Street is also used in both directions by cyclists in separate lanes. With only a narrow buffer area between bikers and drivers, community members appealed to city councilors to create a safer path for riders. At a council meeting last year, council members voted unanimously to enact the cycle track pilot project.
Traffic Logix CycleLane curbing was suggested for the project by IBI Group, an urban design firm with their finger on the pulse of traffic safety innovations. The CycleLane delineator units are designed to provide a visual and physical separation between motor vehicle and bicyclist traffic. Boasting a unique two sided profile, the sloped side of the curb faces bicyclists to guide them back into the bike lane while the side facing cars is vertical to prevent cars from veering into bike traffic.
The 29.5" inch CycleLane units were installed along the length of the roadway with breaks for intersections and driveways. Safe hit posts were installed at each break both to identify openings and as a cue for snow plows in winter weather as to where curbing begins and ends. The 3 km cycle track is the first of its kind in Ontario and runs continuously along Cannon Street from Sherman Ave to Hess St.
The recycled rubber CyleLane units are molded with highly reflective white strips to enhance visibility for both drivers and bicyclists. This ensures that there is a defined sense of separation even during nighttime or at times of poor visibility.
With a full assessment of the cycle track scheduled for after the three year pilot project, ongoing monitoring is being conducted throughout.
"The cycling community is very satisfied with the new track and the barriers between them and motor vehicles," said Daryl Bender, the Project Manager of Alternative Transportation for Hamilton. "We haven't had any negative response, people accepted the new curbing design as if it was a familiar solution."
CycleLane curbing can be used to improve the safety of bike lanes on any roadway. Units can be positioned to allow for entry or exit as needed and can be installed with safe hit posts to alert drivers and cyclists as to where curbing begins and ends.
Hamilton, ON also has a traffic calming program underway including Traffic Logix speed humps and SafePace 450 compact radar feedback signs.
For more information about CycleLane rubber lane delineators, visit http://www.trafficlogix.com/productsservices/cyclelane.
For more info about the Cannon Cycle Track visit http://www.hamilton.ca/cycling.