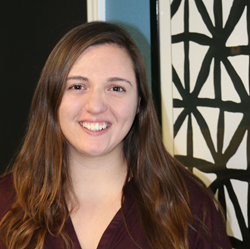 Ankeny, IA (PRWEB) January 07, 2015
QA Graphics is proud to announce the hiring of Samantha Sickles, as the company's Social Media Specialist.
Samantha will be responsible for developing, managing and expanding the company's diverse brands of products and services through social media and digital marketing. She will be working alongside Jon Dlouhy, Director of Marketing, to develop retargeting and remarketing campaign strategies. Samantha will also actively monitor, evaluate, and maintain the circulation of social media content to progress social media marketing strategies.
Samantha brings with her over two years of experience and proven success, as a marketing professional through a variety of internships. Prior to joining QA Graphics, Samantha was the Marketing and Events Intern for a non-profit organization in La Crosse, WI. There, she developed strategic marketing plans for new programs and services, designed new promotional materials, wrote and submitted press releases to the media, organized event logistics and developed social media content.
Samantha earned her Bachelor of Arts degree from Iowa State University, majoring in Communication Studies with a minor in Journalism and Mass Communication. She is a recent graduate who has moved back to the area and volunteers for the Des Moines Arts Festival and 80/35 Music Festival. In her free time, she enjoys travelling, attending festivals and cheering on the Cyclones.
QA Graphics is excited to welcome Samantha to the team!
About QA Graphics
QA Graphics is a leader in the building automation and green building industries, providing HVAC graphic development services, system graphics, floor plan graphics, and energy dashboards to help organizations educate occupants about building performance and sustainability. The company also provides marketing solutions such as interactive applications, 3D design and animation, mobile app development, videos, and other multimedia. Visit http://www.qagraphics.com to learn more.
###