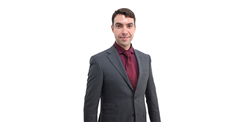 "Each patient is a book, with their own postural and emotional problems. The Posture Clinical Fellowship is a guided trip to these beautiful books that need our help." Dr. Joe Rosario
Astoria, NY (PRWEB) January 08, 2015
January 5th, 2015:
Dr. Joe Rosario, a member of the Hands-On Seminars faculty and an established expert on postural balance and its relationship to mental and physical health, has just been chosen to join the editorial team on the International Journal of Psychology and Psychoanalysis.
In honor and celebration on this appointment, Hands-On Seminars is offering a one-day, "Get to Know Joe" seminar to be held in Florida, New York and Texas.
In this Postural Balance Master Class Dr. Rosario will give students an understanding of the postural system and the relationship between posture and all other systems in the body. They will discover a variety of effective approaches to solve a postural fault and learn as well the advanced biomechanics related to posture.
Topics Covered (Day):
1 – What is posture
2 – Health problems related to posture
3 – Ways to adjust posture
4 – The interconnectivity of body chains
5 – A quick view of the Myofascial Chain
6 – Basic Postural Assessment
7 – Myofascial Chain Stretch
8 – Demonstration of treatment
The evening presentation will cover. "Bad posture, Big Problems', where students will gain an understanding of how posture can affect and produce many different illnesses and the best scientific solutions to postural problems.
Topics:
1 - How a bad posture can hurt your health
2 - Best solutions
Enjoy this "Get to Know Joe" special
Seminar will be held in:
Delray Beach, FL
January 17th 2015
8:30AM to 5:30PM
Seminar will be held in:
Astoria, New York
January 18th and 25th, 2015
8:30AM to 5:30PM
Please take a look at our website for Texas seminar date.
Hands-On Seminars, Inc. (HOS) is the leading international continuing education organization in the world, awarded the Lecture & Seminars Award as the best Lecture and Seminar Company from the Lectures and Seminars Bureau over the past two years. Their purpose is to provide the best quality Manual Therapy seminars at an affordable cost. For further information, please contact: Alexandra Rosner at 888-767-5003 or info(at)handsonseminars.com
###