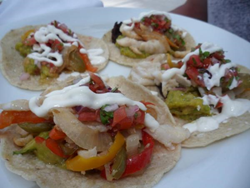 Missoula, Montana (PRWEB) January 08, 2015
Travelers who have both a desire for active adventure and a discerning palate now have tour options that incorporate fitness and cuisine. The demand of these travelers has resulted in "fusion travel" and the availability of exciting new trips.
Recently, Epicure & Culture announced its "Top 12 Fitness and Food Vacations for 2015" list. Adventure Life's "Living Maya Experience" Belize tour was included as one of these "Fusion Safaris" that incorporates both active excursions and culinary experiences. Travelers can take a cooking class, attend wine tastings, and enjoy gourmet meals all after a day of kayaking, hiking through the jungle, and searching for wildlife.
The Epicure & Culture article states, "Food loving travelers, rejoice! If you want a guilt-free way to enjoy the best wines, seafood and regional cuisine around the world, chose from these food-fitness safaris, active trips that will have you burning calories without even realizing it."
To see the details of the "Living Maya Experience" tour visit http://www.adventure-life.com/tours/living-maya-experience-3547
To explore the world with Adventure Life, visit http://www.adventure-life.com or call 800-344-6118.
About Adventure Life:
Adventure Life is a company of travelers with a passion for sharing the world with others. Our travel experience runs deep, from years volunteering in rural Africa and Central America, to research trips in Asia, studying in Europe, guiding in the Rockies, and just bouncing around every corner of the world. This deep experience is the reason behind our pioneering approach to travel and award winning itineraries. For nearly fifteen years we have been creating personal itineraries that immerse our travelers in the vibrant colors of a place, leaving both our guests and hosts enriched by the experience. From our beginnings as a Latin America specialist, we now offer private journeys, small group tours, and expedition voyages throughout the world. We pride ourselves on our intimate knowledge of our destinations and our dedication to sharing the world.
Media Contact:
Sublime Public Relations
Steve Snyders
steve(at)sublimepub(dot)com
406-728-4180