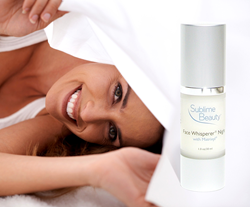 The Face Whisperer products are all about improving skin health and quality.
St. Petersburg, FL (PRWEB) January 07, 2015
The new year brings an evaluation of skin health and well-being. Sublime Beauty® offers the Face Whisperer® Day and Night Cream at a discount together, and the products are made to improve skin quality.
The Face Whisperer® Day Cream features Argireline®, known commonly as the natural botox, as it relaxes wrinkles and lines naturally. It also includes the peptide compound Trylagen which not only boosts essential collagen in the skin but protects it. And the "Dream Cream" also includes numerous botanicals to hydrate and heal, such as Aloe, Sweet Almond, Avocado, Carrot Extract, Ginseng and Cucumber.
The Night cream is creamy and comforting, and features the peptide Matrixyl to boost collagen during sleep.
Purchase the Face Whisperer® Night cream on Amazon, use Coupon Code NIGHTFW5 and get $10 Off the purchase of the Face Whisperer® Day Cream with Argireline.
"The Face Whisperer® line is all about improving skin," says Kathy Heshelow, founder of Sublime Beauty®. "Purchasers get a free 7 page report about the ingredients in the line and how they work with your skin."
ABOUT: Sublime Beauty® is a French-inspired quality skincare company that focuses on products to Age Well. Ingredients help to boost collagen, hydrate, relax wrinkles and improve skin. A niche includes healthy Skin Brushes. The company webstore offers free standard shipping and a VIP Club. Sign up for Secret Sales on the site. Products also available on Amazon.