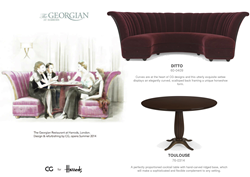 Beverly Hills and Las Vegas (PRWEB) January 07, 2015
A planned 50% expansion of Christopher Guy's stunning Las Vegas premier showroom (Las Vegas Design Center, 495 S. Grand Central Parkway, Suite A–100, Las Vegas, NV 89106) will be previewed at the Las Vegas Winter Market, January 18-22, 2015. The showroom expansion, which will be completed by Summer 2015, reflects the company's impressive CG-Americans sales growth—approaching 40% for 2014—and overwhelming hospitality industry and private client response to the Christopher Guy luxury brand.
Visionary Founder, CEO & Chief Designer Christopher Guy Harrison will participate in a panel discussion to be held Sunday, January 18th at 1pm in the Worldview Ballroom at LVDC, 'Signature on the World: Creating a Global Brand' , to be moderated by Ms. Arlyn Hernandez, Executive Editor of Luxe Interiors + Design magazine, and also featuring Christiane Lemieux (Creative Director of Wayfair.com, and founder of Dwell), and Jaime Derringer (Founder of Design Milk). Christopher Guy Harrison will describe the meteoric rise of the Christopher Guy brand, over less than a decade, with a global presence now in 42 international cities.
The Christopher Guy Las Vegas showroom will also offer a 'Trip to Harrods,' showcasing Christopher Guy's spectacular refurnishing of the iconic Harrods Georgian Restaurant in London.
Visitors will be able to see examples of the actual tables and banquettes used for the Harrods Georgian Restaurant renovation. The banquette color is very similar to the recently announced 2015 Pantone Color of the Year, Marsala 18-1438, described as having "grounding red-brown roots [which] eminate a sophisticated, natural earthiness." A dining room display will feature the striking Sherwin Williams 'Stolen Kiss' red, and a separate 'Midnight Apartment,' portraying London at night, will feature Italian silver as the predominant metallic tone.
"We greatly look forward to welcoming Las Vegas Winter Market visitors in appropriate style for a taste of our Harrods Georgian Restaurant experience," said Christopher Guy Harrison, "and we are very excited about our coming Las Vegas showroom expansion—which will dramatically enhance the presentation of our brand. All of us at Christopher Guy are so appreciative of the amazing response to our offerings here in the Americas, reflected in our sharply increased sales this year."
For further press information—and to RSVP for the 'Trip to Harrods' champagne reception on January 18 or 19—please contact Ms. Birgit Müller, Christopher Guy Brand Ambassador and Public Relations Representative, Tel: + 1 (323) 332-9520, or email: birgit(at)brandamb(dot)com.