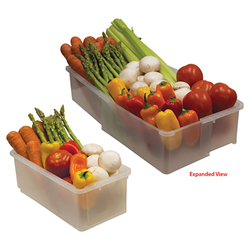 Lima, OH (PRWEB) January 07, 2015
The Range Kleen Storage and Organization category aRange™, Organization by Design continues to grow to provide consumers optimized organization options for anywhere in the home. To utilize small spaces, Range Kleen would like to introduce two new products the 2-Way Large Expandable Bin and the 2-Way Small Expandable Bin.
Intended but not limited to only the kitchen, the large and small expandable bins are perfect for your refrigerator, pantry, deeper drawers, crafts, shop, and any area in the home that storage is needed.
Expanding in both directions in length and width allows the product to almost double in footprint from the smallest configuration to the largest. This item is perfect for the fridge as expansion can decrease as food is removed from the bins, maintaining maximum space in the refrigerator at all times. The bins are not water tight, but can be cleaned in warm soapy water and rinsed well.
The Expandable Bins are constructed of a rigid, sturdy Polypropylene plastic designed for durability. Expandable Bins are available in a translucent white to compliment all areas of the home. Standing 3.5 inches tall the Large Expandable Bin expands from 5.25 W x 9.75 L inches to 8 W x 16 L inches. The Small Expandable Bin expands from 4.25 W x 8.75 L inches to 6.25 W x 14.25 L inches. Patent Pending.
For more product information and availability please go to http://www.rangekleen.com.
About Range Kleen Mfg., Inc.
Range Kleen Manufacturing, Inc. is a Lima, OH based company manufacturing household products sold to major retail chains globally and has been taking care of the customer (TCOTC) since 1971. Its product Divisions include: Original Equipment Manufacturing Quality (OEM) replacement drip pans for ranges & stoves; Non-stick Metal Bakeware; Kitchen Decorative products specializing in exclusive licensed designs; Storage, Organization, insulated food and beverage bottles and household cleaning supplies. Range Kleen Introduced their own line of cookware- Stainless Steel and Enameled Cast Iron as well as pot racks in 2007. Effective December 21, 2009, Range Kleen Manufacturing was pleased to announce the partnership with Berndes Cookware USA and has taken the lead of all sales, marketing and shipping of Berndes Cookware USA from their International Headquarters in Lima, Ohio.