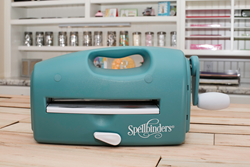 We've been diligently working to innovate new products.
Phoenix, AZ (PRWEB) January 07, 2015
Spellbinders® Paper Arts, an award-winning inventor, manufacturer and marketer of industry-leading products for crafters of all genres, has entered 2015 with a complete brand refresh. The company has been busily working to educate and inspire the consumer as well as provide lower pricing on most of its products.
"We've been diligently working to innovate new products. During 2014, we unveiled various elements of a complete brand refresh including a new logo, updated packaging and the launch of a new interactive website so it is easier to find and learn about our products. We're confident it will assist our crafters and mixed media artists in truly shaping a beautiful life," said Stacey Caron, Spellbinders President and Co-Founder.
The Spellbinders Celebra'tions 2.0 line will be featured in Spellbinders' Booth #2345 from January 10-13, 2015 at the 2015 CHA Mega Show in Anaheim, CA. Products augmenting the Celebra'tions line that launched in June 2014 are 21 dies, four stamp sets, two inspiration books, two assorted sequins, printed paper, enamel elements, decorative tape and a color dimension glaze.
Also being featured at the 2015 CHA Mega Show are stunning dies from designers Becca Feeken (Amazing Paper Grace) and Scrappy Cat, with five and nine new designs, respectively.
The Spellbinders cornerstone machine, the Grand Calibur®, has been updated with stronger support beams and gears, and a fresh new outer look, with a teal color and new logo.
Suggested Retail Pricing (SRP) for the Spellbinders Celebra'tions 2.0 line ranges from $5.99 - $19.99; $19.99 for the Becca Feeken Amazing Paper Grace dies; $9.99 - $14.99 for the Scrappy Cat dies and $139.99 for the Spellbinders Grand Calibur machine. Please visit http://spellbinderscreativearts.com/ for more product information, ideas and inspiration. The new website goes live January 6, 2015 and the newly branded products are shipping in collections to retailers beginning in January and each month thereafter through May of 2015.
About Spellbinders Paper Arts
Spellbinders entered the craft and hobby market in 2003 with the introduction of the Spellbinders Wizard™ Universal Craft Tool and the industry's first incremented nesting dies that cut, embossed and stenciled. A pioneer of innovative technology, the company's revolutionary dies changed the format of manual die cutting worldwide. Always on the cutting edge of introducing innovation to the market, the company is known worldwide for its game changing products with more than 250 patented and patent-pending products across a different variety of craft genres.
In 2012, the company received the Craft & Hobby Association (CHA) 2012 Summer Innovations Award for the Spellbinders Nestabilities® Majestic Elements line. Spellbinders President and Co-Founder, Stacey Caron, has been honored with numerous awards including four Stevie® Awards and an Enterprising Women Award.
For three consecutive years, Spellbinders Paper Arts has been listed in the Inc. 500|5000, an exclusive ranking of entrepreneurs nationwide. Visit http://spellbinderscreativearts.com/ or e-mail info(at)spellbinders(dot)us for more information.
Copyright© 2015 Spellbinders® Paper Arts LLC. All rights reserved. Spellbinders and the Spellbinders logo are trademarks of Spellbinders Paper Arts LLC. Spellbinders product specifications are subject to change without notice. All other trademarks are the property of their respective companies.