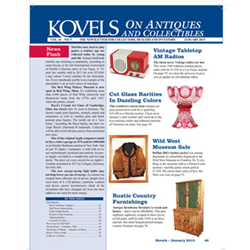 Cleveland, OH (PRWEB) January 07, 2015
Dozens of vintage tabletop AM radios sold at a recent Las Vegas auction are featured in a "Kovels on Antiques and Collectibles" January 2015 newsletter sale report. Vintage tabletop radios are now considered small works of art. See the c.1940 Fada 700 "Cloud" Catalin radio that brought the highest price of $2,700 as well as other eye-catching radios from the sale. The best of the best colored cut glass made a century or more ago sold for exceptional prices at a fall Detroit auction. A cranberry-cut-to-clear punch bowl sold for a sparkling $10,200 and it wasn't even the auction's top seller! See other colorful pieces with elaborate patterns from this single cut glass collection in the January issue.
Buffalo Bill's leather jacket was among thousands of collectibles displayed at the Wild West Museum in Franklin, Pa. Everything at the museum sold at a Pennsylvania auction – and the jacket struck gold with a selling price of $7,200. More Wild West memorabilia can be found in "Kovels on Antiques and Collectibles" January newsletter. Collectors know that antique farmhouse furniture is warm and homey – and bidders at a fall Iowa auction found that it can be affordable too. The most expensive piece of rustic furniture was an 81-inch stepback cupboard with open shelves over two doors and old red paint that went for $1,200. Other less expensive cabinets and cupboards are also pictured.
Remember Little Golden Books from your childhood? Very early editions of readers' favorites can sell for high prices, but many can still be found online for under $20. Refresh your memory with some of the popular titles pictured in Kovels' January newsletter. And trophies from America's "Golden Age of Yachting" at the end of the 19th century sold at a fall Massachusetts auction. Tiffany, Gorham and Shiebler were among the well-known makers of the auctioned trophies and Kovels' shows pictures and prices along with the names of the winning yachts.
Terry Kovel shares her favorites from the National Granite Ware Society convention in Columbus, Ohio, where she enjoyed visiting with collectors and dealers. New Uses for Old Stuff pictures a bicycle transformed into a powder-room shelf. The popular illustrated Collector's Gallery answers readers' questions about a Ford advertising sign, California Raisin figures, polar bear automaton and metal turtle spittoon. January's Dictionary of Marks lists animal and insect marks used by some American silver makers. The Buyer's Price Guide has current prices of dozens of antiques and collectibles.
"Kovels on Antiques and Collectibles" is available as a print subscription or as a digital version that is part of the Kovels.com Premium subscription.
Terry Kovel is America's foremost authority on antiques and collectibles. She is the well-known columnist and author of more than 100 books on antiques and collecting. With her daughter, Kim Kovel, she co-authors the best-selling annual "Kovels' Antiques and Collectibles Price Guide." The all-new 2015 edition is now available. They will discuss antiques and collectibles topics with accredited media. Photographs are available. Contact pr(at)kovels.com.
About Kovels.com
Kovels.com, created by Terry Kovel and Kim Kovel, provides collectors and researchers with up-to-date and accurate information on antiques and collectibles. Kovels' Antiques was founded in 1953 by Terry Kovel and her late husband, Ralph. Since then, Kovels' Antiques has published some of America's most popular books and articles about antiques, including the best-selling "Kovels' Antiques and Collectibles Price Guide," now in its 47th edition. The Kovels' website, online since 1998, offers 900,000 free prices, and includes a free weekly email, Kovels Komments. Kovels.com gives readers a bird's-eye view of the market through the latest news, auction reports, a Marks Dictionary, readers' questions with Kovels' answers and much more.
Contact Information:
Liz Lillis
216.752.2252
Pr(at)kovels(dot)com