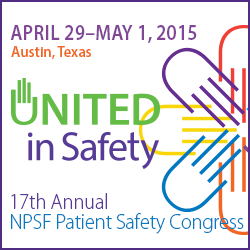 The NPSF Congress has always been about sharing best practices, innovations, and new ideas, so a general session devoted to patient safety research is a natural fit.
Boston, MA (PRWEB) January 08, 2015
Fifty priority areas for patient safety research have been identified by the World Health Organization—from adverse drug events to safety culture to human factors. As patient safety has grown to become a unique discipline in health care, research related to patient safety science has also expanded across the health spectrum.
In an effort to shine a light on some of the most groundbreaking studies, the National Patient Safety Foundation (NPSF), a nonprofit organization that has been a central voice for patient safety since 1997, and the Risk Management Foundation of the Harvard Medical Institutions (CRICO) have announced plans for a general session at the annual NPSF Patient Safety Congress in April that will focus on key research findings related to patient safety. CRICO has agreed to underwrite this session for a period of three years beginning with the 2015 NPSF Congress, as it is an extension of its mission: to promote patient safety through broad dissemination of initiatives designed to reduce medical error and malpractice exposure.
"The NPSF Congress has always been about sharing best practices, innovations, and new ideas, so a general session devoted to patient safety research is a natural fit," said Tejal K. Gandhi, MD, MPH, CPPS, president and CEO, NPSF. "We are very pleased to be partnering with CRICO in this effort to educate Congress attendees about some of the most relevant and compelling findings in patient safety."
Dr. Kaveh Shojania, editor-in-chief of BMJ Quality & Safety, an international, peer-reviewed publication, presented a session devoted to patient safety research studies at the 2014 Congress last May. Dr. Shojania has been invited to present the future sessions. "At BMJQS, we try to highlight rigorous research that advances the science of patient safety while also remaining practical for those working on safety at the front lines," he said. "It's very gratifying to see NPSF similarly trying to balance tools for pragmatic work with attention to the evidence for what actually works. It was thus a pleasure speaking at the NPSF meeting in 2014. And I look forward to similarly reviewing the research highlights in patient safety for the past 12 months at future NPSF Congresses."
"We found Dr. Shojania's presentation and approach to patient safety research at the 2014 Congress to be informative, engaging, and uniquely accessible," said Mark Reynolds, president of CRICO. "His review of trends in patient safety aligns with the type of insights we share with our members in an effort to reduce risk and improve safety. Our clinicians are most engaged when presented with data and analytics. By sponsoring this research session, we hope to disseminate research advances on the broader scale afforded by the NPSF Congress. Our intent is to inspire widespread improvement, encourage conversation, and engage all those involved with the delivery of safe and effective care."
The 17th Annual NPSF Patient Safety Congress will be held April 29-May 1, 2015, in Austin, TX. This year's theme is United in Safety, and the program of events includes four keynote sessions, 30 breakout sessions, and live health care simulations in the Learning & Simulation Center, all geared to an international audience of health professionals, leaders of health care organizations, and patients and advocates.
For news updates about the meeting, visit npsf.org/congress2015.
About the National Patient Safety Foundation
The National Patient Safety Foundation's vision is to create a world where patients and those who care for them are free from harm. A central voice for patient safety since 1997, NPSF partners with patients and families, the health care community, and key stakeholders to advance patient safety and health care workforce safety and disseminate strategies to prevent harm. NPSF is an independent, not-for-profit 501(c)(3) organization. To learn more about the Foundation's work, visit http://www.npsf.org.
About CRICO
CRICO, A recognized leader in evidence-based risk management, is a group of companies owned by and serving the Harvard medical community. For more than 30 years, the CRICO companies have provided industry-leading medical professional liability coverage, claims management, and patient safety resources to its members. For more information visit http://www.rmf.harvard.edu.