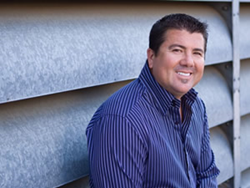 Greenville, SC (PRWEB) January 06, 2015
Greenville, SC residents who want straighter teeth but are uncomfortable with the lengthy process of traditional braces can now turn to Dr. Matt Bynum for an alternative treatment, as he now is accepting new patients from the area. Using Six Month Smiles®, Dr. Bynum helps patients receive the smiles of their dreams after an average of only six months of treatment. To have as much aesthetic impact as possible in the least amount of time, the treatment only focuses on the teeth that are visible when a patient smiles.
Greenville, SC patients who choose Six Month Smiles® to achieve straighter teeth receive the same brackets and wires that are used with regular braces. This allows Dr. Bynum to move the teeth at the same rate as seen with traditional orthodontics, with the same long-lasting results. However, all wires and brackets are enamel colored to maintain discretion. This is ideal for those who do not like the look of traditional metal brackets. An additional benefit of Six Month Smiles® is the shortened treatment time can cut back the overall cost. The cost associated with Six Month Smiles® treatment is generally less than the cost of traditional braces.
Those who have always wanted straighter teeth in the Greenville, SC area can now achieve their goal when they seek treatment from Dr. Bynum and begin using Six Month Smiles®. Interested patients are encouraged to contact the doctor's office and to visit his website for more information or schedule an appointment to begin treatment.
About the Doctor
Dr. Matt Bynum is an aesthetic dentist practicing in the Simpsonville, SC area for over 16 years. Dr. Bynum provides individualized, high-tech, and quality cosmetic, aesthetic and general dentistry services. He received his undergraduate degree from the University of California, San Diego, before earning his dental degree from the University of Iowa, College of Dentistry. Dr. Bynum serves as a featured speaker and clinical instructor at various dental offices across the globe. He is also the co-director and co-founder of the "Achieving Extreme Success" seminar series. Dr. Bynum is a member and lecturer of the American Academy of Cosmetic Dentistry, the International Association of Comprehensive Aesthetics, the American Dental Association, and the South Carolina Dental Association. To learn more about Dr. Bynum and the services he provides visit his website at http://www.drmattbynum.com or call 864-297-5585.