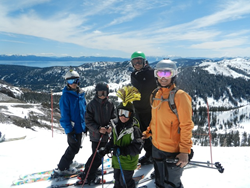 Local hills are affordable places to learn before taking that once-in-a-season trip to a major ski resort.
Pacifica, CA (PRWEB) January 08, 2015
Pacifica, CA – 1/8/2015 - Which US and Canadian ski resorts do families love best? According to the recent Best Family Ski Resorts poll, designed by family travel expert Trekaroo.com, the answer is found locally, in neighborhood ski areas. Created to help families choose the best ski resorts for their winter ski trip vacations, almost 3000 skiers and snowboarders participated in the poll. The results highlighted over 50 resorts in 18 categories ranging from 'best ski resort for families with babies and toddlers' to 'best ski resort for budget-conscious families' at both big mountain premiere resorts and community ski areas. An overwhelming majority of reader votes went to small town ski resorts in the New England, Northwestern, and Southwestern regions.
Launched in conjunction with Trekaroo's annual Ski Week and ski vacation guide, industry insiders expected the Best Family Ski Resorts poll to fill a need for skiing families, but most did not anticipate the outpouring of support for small town resorts. "I'm glad to see the support for smaller mountains," says Amy Whitley, Trekaroo's editorial and sponsorship manager. "Local hills are affordable places to learn before taking that once-in-a-season trip to a major resort." Whitley explains that families using the 'small mountain learning, big mountain vacation' strategy when it comes to winter recreation will have the Best Family Ski Resorts poll results to guide them when they're ready to tackle bigger mountain terrain. "As a parent, I understand how much time, effort, and expense goes into a vacation at a destination ski resort. When families have picked the right resort for their needs, we know they'll have a wonderful experience."
Trekaroo has long served as a go-to source for family travel information, which extends to include winter ski destinations, big and small. The top small resort Best Family Ski Resorts poll winners, listed below by region, are well-known by Trekaroo readers. Go here for the full list of winners, including big mountain resorts such as Alta, Alpine Meadows, and Vail.
Best small town ski resort in New England:
Winner: Mad River Glen
Runner up: Windham Mountain Ski Resort
Mad River Glen is tucked into one of the most family-friendly pockets of Vermont, filled with activities for kids on and off the snow. Families come to Mad River for the friendly, casual atmosphere on the mountain. Mara Gorman, a blogger with All Mountain Mamas, describes Mad River Glen as "the last of a dying breed - an old-fashioned resort that's all about the terrain". She explains that skiers won't find high-speed quads, a gourmet cafeteria, or even snowboarders (boarding isn't allowed) at MRG. "But what you will find is amazing natural snow, some of the most beautiful woods skiing anywhere, and a friendly, joyous atmosphere."
Best small town ski resort in the Northwest:
Winner: Hoodoo Ski Area, OR
Runner up: June Mountain, CA
Haven't heard of Hoodoo? Families visiting Central Oregon should take note: this small town resort offers big terrain, and fun ways to traverse it. "Our kids love the snow bike rentals available at Hoodoo," says Whitley. "They make an ordinary ski day a full-blown adventure as kids play on them and forget about cold hands or feet." On traditional skis and snowboards, Hoodoo offers unparalleled powder and off-piste terrain, plus plenty of groomers for beginners and intermediates. Fire up a crock pot in the lodge for lunch time soup…yes, it's casual here!
Best small town ski resort in the Southwest:
Winner: Angel Fire Resort
Runner up: Taos Ski Valley
Small enough for kids to feel at home on the mountain, yet large enough to offer a top kids' ski school and childcare, Angel Fire is the perfect size. It's highly affordable, too: a pass for snowshoeing is only $5, and parents can tag-team during the ski day with the revolutionary Parent Pass. Being a small resort means Angel Fire can offer kids personalized attention. In the ski school, this translates to state-of-the-art security for the littlest skiers. "Enrolled ski school students are equipped with Flaik, GPS tracking lightweight armband locator," says Tina Buell, Trekaroo member and mom. "Staff always knows exactly where on the mountain your child is at all times."
No matter where ski and snowboarding families live in the US and Canada, Trekaroo's comprehensive list of small and large mountain resorts is at the ready. Ski close to home, or spend vacation at a big mountain resort.