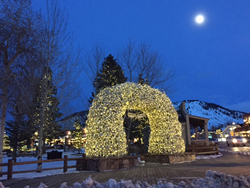 Jackson Hole residents really know how to play in the snow, and our WinterFest events show off their amazing skills.
Jackson Hole, Wyo. (PRWEB) January 07, 2015
Jackson Hole's winter reputation may be built on skiing, but the valley is home to all kinds of winter fun, celebrated annually in February with the town's popular WinterFest, now in its fifth year. Offering an exciting lineup of activities for visitors and locals alike, the 2015 WinterFest will take place February 13 – 22, 2015, announced the Jackson Hole Chamber of Commerce. Festivities kick off on Friday, February 13 with ice skating on Jackson's elk antler-bedecked Town Square and continue over the next 10 days with everything from ice climbing to ski racing to winter horse events that celebrate the area's ranching legacy.
"Jackson Hole residents really know how to play in the snow, and our WinterFest events show off their amazing skills," says Maureen Murphy, director of special events for the Jackson Hole Chamber of Commerce, which organizes the annual festival. "Visitors, too, can participate in competitions from skijoring to the annual Nordic skiing Moose Chase, as well as enjoying the excitement as spectators. And events like the art gallery walk and the Town Square ice skating appeal to everyone."
The festival's alpine ski racing events include a nighttime team Margarita Cup and the casual Wednesday Night Lights skiing and snowboarding competition at Snow King for all ages and abilities. Cross-country skiers will enjoy the Moose Chase at Trail Creek Nordic Center, with events ranging from a free 1K for all ages to a 30K marathon. Competitors will also take to the ice with the Jackson Ice Fest at The Exum Ice Park at Snow King, where climbers will compete under the lights for prizes.
Jackson Hole's Wild West spirit comes alive in the snow with two events presented by the Jackson Hole Shriners Club at Melody Ranch. The exciting Cutter Races, held Saturday and Sunday, Feb. 14 and 15, are a local favorite where the Jackson community enjoys tailgating and cheering on racers as they speed through the snow in horse-drawn chariots known as "cutters." The following weekend, Feb. 21 and 22, Jackson Hole Ski Joring offers up the thrills of skiers pulled behind galloping horses at breakneck speed while navigating a snow course full of jumps and turns.
For the less adventurous who still want to enjoy Jackson's winter wonderland, ice skating in Jackson's Town Square continues through the 10 days of WinterFest. And food, wine and art take center stage for events like the Gallery Walk, where local galleries keep their doors open late, and the Mason Club's Wine Tasting at the Center for the Arts.
Visit http://www.jacksonholechamber.com/events/winterfest.php for a full schedule of Winterfest activities. For more information, call 307.733.3316 or email info(at)jacksonholechamber(dot)com.
About Jackson Hole:
Conveniently located just 20 minutes from the Jackson Hole Airport, Jackson, Wyo., is served by major airlines including Delta, United, American and SkyWest. Reservation information for Jackson's numerous hotels, as well as a complete schedule of Jackson Hole Winterfest events may be found at http://www.jacksonholechamber.com. For additional information, contact Maureen Murphy at Jackson Hole Chamber, 307.733.3316.
Contact:
Darla Worden, WordenGroup Strategic Public Relations, darla(at)wordenpr(dot)com, 307.734.5335