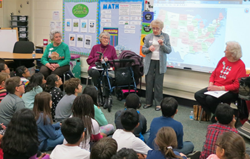 "Our relationship with Hoover continues to be a win-win. The residents of Friendship Village and the students and staff at Hoover all benefit," said Jeannette Magdaleno, lifelong learning and volunteer coordinator for Friendship Village.
(PRWEB) January 07, 2015
Friendship Village and Hoover Math and Science Academy, both of Schaumburg, have a long-standing and mutually beneficial relationship. For years, seniors from Friendship Village have visited and helped out as teachers' aides in the Hoover classrooms.
More recently, the two entities joined forces in a new initiative resulting in the Hoover Friendship Garden-Growing Green Dreams. Seasoned gardeners from Friendship Village lent their expertise to develop and maintain a greenhouse and garden plots at Hoover. Woodworkers from Friendship Village built raised planters and a tool shed for the garden. Produce grown at the Hoover Friendship Garden is shared with clients of local food pantries.
This past fall, men from Friendship Village with a passion for photography, began volunteering with the students in an after school photography club.
The latest joint venture between the two entities brought residents from Friendship Village into the Hoover classrooms to share their experiences. Several weeks ago, four residents were invited to speak to 114 fourth grade students who are studying United States geography.
Friendship Village resident Delphia Kramer talked to the students about her youth, living on a farm along the Missouri Valley in Nebraska. Velma Robinson shared what it was like growing up in West Virginia near the coalmines where her father and brothers worked. Rae Meyer recalled climbing to the top of the St Louis Arch when it first opened. Katharine Dagres described her family's candy store in Chicago, and the children and servicemen who visited it.
"Our relationship with Hoover continues to be a win-win. The residents of Friendship Village and the students and staff at Hoover all benefit," said Jeannette Magdaleno, lifelong learning and volunteer coordinator for Friendship Village. "We love the fact that all of our collaborations promote friendship and respect among different generations. And the programs encourage residents of Friendship Village to continue to share their expertise and life experiences, while giving back to the community by volunteering at the school."
Friendship Village is a leading Chicago-area retirement community offering a complete continuum of care including independent living garden homes and apartment homes, as well as assisted living, memory support, skilled care, and short- and long-term rehabilitation services. For more than 35 years, Friendship Village has been providing Chicago area seniors with exceptional retirement living options. For additional information visit http://www.FriendshipVillage.org