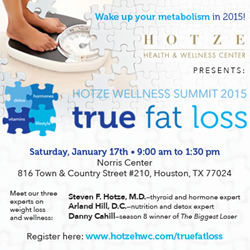 Houston, Texas (PRWEB) January 07, 2015
Hotze Health & Wellness Center (HHWC), a world leader in the alternative health care industry, is hosting its True Fat Loss Summit on Saturday, January 17, 2015. HHWC will reveal the science-based secrets behind true fat loss. The details of the event are as follows:
Date: Saturday, January 17, 2015
Time: 9:00 a.m.-1:30 p.m.
Registration: 8:30 a.m.
Location:
Norris Center at Houston CityCentre (in the Magnolia Ballroom)
816 Town & Country Street, #210
Houston, Texas 77024
(713) 590-0950
Cost: $24.99
Speakers:
-Dr. Steven Hotze – Thyroid and Hormone Expert
-Danny Cahill - The Biggest Loser Winner (Season 8)
-Dr. Arland Hill - Nutrition and Detoxification Expert
Topics presented:
-Secrets of restoring your metabolism
-Detoxification of your liver - your top fat burning organ
-Balancing your hormones – waking up the messengers
-Identifying nutrient deficiencies – are you missing important players?
-Food, water, and lifestyle – clean, nourishing, practical solutions
-How environmental contaminants play a role in weight gain and illness
Vendors Attending:
-Hotze Vitamins™
-Hotze Pharmacy™
-Lifestyle Changes – Nutrition and Wellness Coaching
-Mountain Valley Spring Water
-Water Event – Pure Water Solutions
-Flow – The Optimal Juicing Experience
-Dinner Dude
-Snap Kitchen
-Jane Iredale – The Skin Care Make-Up
-Andalou Naturals - Natural Skin, Body and Hair Care Products
Register at this link: http://www.hotzehwc.com/truefatloss
About Hotze Health & Wellness Center:
Hotze Health & Wellness Center is leading the Revolution in Wellness™ care by changing the way women and men are treated through detoxification and bioidentical hormone replacement. Founded in 1989 by Steven F. Hotze, M.D., the Center has successfully treated more than 30,000 patients. In an effort to help patients obtain and maintain life-long health and wellness, physicians and registered nurses on staff address the root cause of symptoms, and correct health ailments naturally rather than merely masking symptoms with drugs. For more information, visit, http://www.hotzehwc.com, and on Facebook: http://www.facebook.com/HotzeHWC.
Media Inquiries:
Jennifer Johnson
Jennifer(dot)Johnson(at)hotzehwc(dot)com
281-698-8640