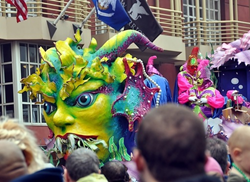 Tampa Bay, FL (PRWEB) January 07, 2015
The 24th Annual Dunedin Mardi Gras Parade and Festival will take place on February 17 in Downtown Dunedin, celebrating the historic tradition of Mardi Gras with food, music and fun. The event offers local residents an experience comparable to that of the infamous New Orleans Mardi Gras celebrations, which draw approximately 1.4 million tourists to the Louisiana city (1) – and the local Dunedin celebration draws 30,000 people, proving that tradition plays a large part in drawing residents out to mid-week events.
Mardi Gras, French for Fat Tuesday, celebrates the last day of the Carnival season. Carnival, which began as a way to prepare for the start of the Catholic season of Lent, kicked off this year in New Orleans on January 6 with the Joan of Arc parade organized by the Krewe of Jeanne d'Arc. The first Mardi Gras parade in New Orleans was held in 1837 – since then, the event has become synonymous with extravagant fun and is now a multimillion dollar business in New Orleans, impacting the New Orleans economy by approximately $144 million annually. (2)
Mardi Gras is a Florida state holiday, and the Tampa Bay Mardi Gras event allows revelers to celebrate locally in a family-friendly fashion. The event kicks off at 4:00 pm in the Pioneer Park Pavilion with music beginning at 5:30 p.m. Festivities will last until 11:00 pm and then spill over into local pubs and restaurants until closing time – the official after party will be held at Club Blur. This year's festivities will include:

Music from Gumbo Boogie and Nathan and the Zydeco Cha Chas;
Miss Mardi Gras Queen pageant;
Vendors spread out along Main Street;
Food from great local restaurants and food trucks lined throughout the streets;
Craft beer trucks sponsored by Great Bay Distributors; and
Family friendly fun.
The highlight of the 24th Annual Dunedin Mardi Gras Parade and Festival is a parade featuring 50 unique and colorful floats. While the parade starts at 7:30 pm, past attendees have begun arriving as early at 1 pm to secure their spots along the parade route. The one hour plus parade begins at the Florida Auto Exchange Stadium and heads north to Skinner Boulevard, running along Douglas Avenue from Knology Park, through Main Street and in front of Pioneer Park finally ending just before Skinner Boulevard and leading into a joyful celebration in Downtown Dunedin. The parade theme is inspired by the Ye Mystic Krewe of the Mermaids and Mermen.
Admission to the parade is free and a VIP pass is available for $50. VIP tickets include access to a private VIP area located along the parade route in the center of Downtown, complimentary drinks, hors d'ouevres and desserts provided by The Living Room, and the opportunity to mingle with local celebrities, business owners and band members. The VIP pass also waives the cover charge for access to the Club Blur Mardi Gras 2015 After Party and includes an invitation to a VIP champagne reception.
This year the event will offer Dunedin Mardi Gras Party Suites for the first time. Private suites hold 20 people and are situated along the parade route for an excellent view. The private suites feature a dedicated space tent along the parade route, a dedicated bartender for up to 20 people, beads and Mardi Gras goodies, commemorative Mardi Gras glass, access to Mardi Gras after party at Club Bar.
The 24th Annual Dunedin Mardi Gras Parade and Festival is presented by the Downtown Dunedin Merchants Association and Tampa Bay event planning company CMJ Productions in cooperation with the City of Dunedin's Community Redevelopment Agency. CMJ Productions is also responsible for Downtown Dunedin's other premier event, Dunedin's Wines the Blues.
The mission of the Dunedin Mardi Gras Parade and Festival is to highlight and bring business to the downtown merchants and their businesses while bringing together members of the community and neighboring communities for an evening of quality entertainment. The event also serves to promote Dunedin to a wide and diverse group of people and will also be preceded by a Mardi Gras Pageant to be held on February 15. Guests of the parade are encouraged to book accommodations at host hotel Beso Del Sol Resort for ease of access to the event.
More information on the 24th Annual Dunedin Mardi Gras Parade and Festival is available at http://www.dunedinmardigras.com
About CMJ Productions:
Founded by Corey Judge, an event planner in Tampa Bay that has been has contributing to the economic impact of the area for 10 years, CMJ has created or co-created the area's most popular events such as Dunedin's Wines the Blues, Dunedin Mardi Gras, Taste of Dunedin, the Clear Music Jazz Series and Beauty Meets Art. CMJ's purpose is to help people experience the vibrancy and fun of the Tampa Bay area while also enhancing the quality of life for those that live here.
1. "Mardi Gras Fast Facts." CNN. Cable News Network, 22 Dec. 2014. Web. 5 Jan. 2015. cnn.com/2013/08/14/world/mardi-gras-fast-facts/.
2. Plaisance, Stacey. "Mardi Gras Helps Fatten New Orleans Businesses."USATODAY.COM. N.p., 20 Feb. 2012. Web. 5 Jan. 2015. usatoday30.usatoday.com/money/industries/travel/story/2012-02-20/Mardi-Gras-helps-fatten-New-Orleans-businesses/53168204/1.