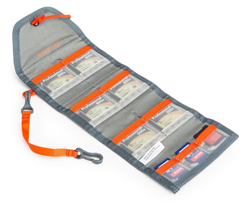 SANTA ROSA, CALIF. (PRWEB) January 08, 2015
MindShift Gear's new House of Cards lightweight memory card wallet offers convenient storage and protection for outdoor photography memory cards. Offered in easy-to-locate Tahoe Blue color, photographers can quickly find and organize six CF and three SD cards. The built in business card holder makes for easy identification. Its orange colored elastic band offers silent access plus additional wallet security. The House of Cards' removable tether clip allows it to be worn on the outside for quick access.
KEY FEATURES

Elastic band provides silent open/close and keeps wallet secure
Clear windows help to identify used vs. full cards
Bright color (Tahoe Blue) is easy to locate in dark corners of camera bags
Removable tether clip attaches to belt, bag, or clothing
Business card/identification window
Lightweight materials
Durable water resistant exterior
SPECIFICATIONS
Exterior Dimensions: 4.7" W x 2.8 H x 0.5" D (12 x 7 x 1.3 cm)
Weight: 1.6 oz (45 g)
# # #
ABOUT MINDSHIFT GEAR
MindShift Gear (http://www.mindshiftgear.com) is a group of committed professional photographers and product designers who support conservation and protection of our natural resources and planet. Founded by the creators of Think Tank Photo and conservation photographer Daniel Beltrá, MindShift is dedicated to building carrying solutions for those who are passionate about experiencing the natural world. Their slogan, "Engage with nature," challenges people to not only become involved in outdoor activities, but to create a conversation about nature and our relationship to the environment.