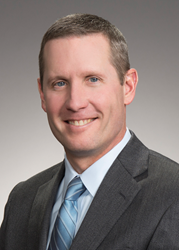 Boise, Idaho (PRWEB) January 06, 2015
Holland & Hart LLP is proud to announce that Bradley Boodt has been elected to a three-year term on the firm's Management Committee, effective January 1, 2015. The five-person Management Committee oversees the management and strategic direction of the entire law firm, which has more than 470 attorneys in 15 offices across the Mountain West and Washington, D.C. Boodt will serve as the committee's Regional Office Representative.
Boodt, a real estate and commercial finance lawyer, is based in the firm's Las Vegas office. Since 2010, he has served as the leader of the firm's practice group that includes its real estate, construction, finance and corporate reorganization lawyers.
"For over four years, I've had the honor of leading a group of talented lawyers who are deeply committed to our clients and communities. I'm excited to have the chance to serve on the firm's management committee, where I intend to apply the many meaningful experiences I gained as a practice group leader to the opportunities and challenges facing the firm as a whole," said Boodt.
Boodt represents financial institutions and other lenders in commercial finance and real estate transactions, as well as developers of large scale commercial real estate projects. He is licensed to practice in both Nevada and New Mexico.
Other members of the firm serving on Holland & Hart LLP's Management Committee include Chair Liz Sharrer, John Shepherd (Senior Third Representative), Wendy Pifher (Middle Third Representative) and newly elected Junior Third Representative, Nicole Snyder.
About Holland & Hart LLP
Holland & Hart LLP's real estate and commercial finance lawyers assist developers, purchasers, sellers, landlords and lenders with commercial real property acquisition, development and financing, including large mixed-use projects, master-planned communities, infrastructure projects, affordable housing, retail development and leasing and public/private partnerships. Our lawyers are experienced and multi-disciplinary, representing clients in both transactional and litigation matters.
Holland & Hart LLP delivers integrated legal solutions to regional, national, and international clients of all sizes. Since its founding in 1947, the firm's more than 470 lawyers, over 60 of which are in its three Nevada offices (Las Vegas, Reno and Carson City), have consistently been recognized by leading national and international peer and industry review organizations for innovation and dedication to the practice of law. For more information, visit http://www.hollandhart.com.