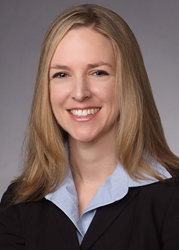 (PRWEB) January 07, 2015
Holland & Hart LLP is proud to announce that Nicole Snyder has been elected to the firm's Management Committee, effective January 1, 2015. The five-person Management Committee oversees the management and strategic direction of the entire law firm, which has more than 470 attorneys in 15 offices across the Mountain West and Washington, D.C.
"I am excited to welcome Nicole and express our appreciation for her willingness to take on the responsibilities that come with serving on the Management Committee," said Liz Sharrer, Chair of the firm. "She has had great success as the Administrative Partner of our Boise office, and the skills she has demonstrated in that role will make her a very valuable member of the Management Committee."
Snyder is based in the Boise office and has served as that office's Administrative Partner for two years. "During Nicole's tenure, the Boise office moved into new office space, grew from 37 to 45 attorneys, and made huge strides towards the goal of increasing the firm's prominence in the Idaho market," said Sharrer. "Nicole's leadership was crucial to each of those results. We thank her for a job well-done, and look forward to her continuing contributions as a member of the Management Committee during the next three years."
Snyder is a member of the firm's Corporate Practice group serving clients in matters involving mergers and acquisitions, corporate governance, debt and equity financing, venture capital, restructurings, and other complex business transactions. She also has extensive experience drafting employment agreements, noncompete agreements, employee handbooks and policies, and severance agreements. Her clients include small and large businesses, nonprofit corporations, and governmental entities.
"I had the opportunity to serve as the Administrative Partner for the Boise office during a very exciting time in our office's history. I am now honored to be on the firm's Management Committee," said Snyder. "I look forward to working with our leadership team to ensure the continued quality and high level of service we provide to our clients."
Other members of the firm serving on Holland & Hart's Management Committee include Chair Liz Sharrer, John Shepherd, Wendy Pifher, and newly-elected Brad Boodt.
Holland & Hart LLP delivers integrated legal solutions to regional, national, and international clients of all sizes. Since its inception in 1947, Holland & Hart's more than 470 lawyers have consistently been recognized by leading national and international peer and industry review organizations for innovation and dedication to the practice of law. For more information, visit http://www.hollandhart.com.
The Boise office and its predecessor firm have served individuals, businesses, and communities throughout Idaho for more than 80 years. Our 45 lawyers access our local experience and the resources of a regional office network to provide responsive, efficient counsel to businesses of all sizes on a full range of legal services, from healthcare to energy law and corporate law to litigation.