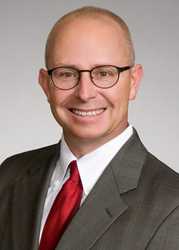 Boise, Idaho (PRWEB) January 08, 2015
Brian Hansen has been appointed as the administrative partner for Holland & Hart LLP's Boise office, effective Jan. 1, 2015. In that role, he assumes responsibility for overseeing the management and strategic development of the office.
The Boise office, which is one of 15 regional office locations within the Denver-based law firm, has 45 attorneys who provide legal counsel to businesses of all sizes on a full range of legal services, from healthcare to energy law and corporate to litigation.
"Along with our predecessor firm, Holland & Hart has enjoyed serving and growing with Idaho's businesses and individuals for more than 80 years," said Hansen. "I'm honored to take on this role to further the relationships and connections we have developed in this community and beyond, and I look forward to building on the growth and success the Boise office has experienced under Nicole Snyder's leadership."
Hansen replaces Nicole Snyder, who has managed the Boise office for the past two years. Snyder has been elected to the firm's Management Committee and will continue her corporate law practice in Boise.
"During her tenure in the Boise office, Nicole completed and moved into new office space, grew the office from 37 to 45 attorneys, and made huge strides towards the goal of increasing the firm's prominence in the Boise market. Her leadership was crucial to each of those results," said Liz Sharrer, the firm's Chair. "We are confident that Brian will build on this positive momentum going forward. He has been an effective leader of the marketing efforts in the Boise office for the past several years, and he has also played a major role in the successful and exciting growth that Boise has experienced during that time."
Hansen is a member of the firm's corporate practice group. His experience includes a broad range of business and commercial matters, including mergers and acquisitions, and telecommunications. He assists clients with matters associated with their operational needs, including license and distribution agreements, service and marketing agreements, and purchase and sale agreements.
He is the current chairman of the Business and Corporate Law Section of the Idaho State Bar. He is admitted to practice law in Idaho, Utah and the United States Supreme Court.
About Holland & Hart
Holland & Hart LLP delivers integrated legal solutions to regional, national, and international clients of all sizes. Established in 1947, today the firm has more than 470 lawyers providing a full range of services from 15 offices across the Mountain West and in Washington, D.C. We offer a client-driven culture with service that is personalized, responsive, and innovative. For more information, visit http://www.hollandhart.com.
The Boise office and its predecessor firm have served individuals, businesses, and communities throughout Idaho for more than 80 years. Our 45 lawyers access our local experience and the resources of a regional office network to provide responsive, efficient counsel to businesses of all sizes on a full range of legal services, from healthcare to energy law and corporate to litigation.