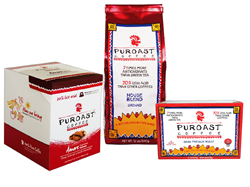 Puroast's combination of rich, smooth, gourmet quality and health attributes sets the coffee apart from other brands
Cincinnati, OH (PRWEB) January 07, 2015
Puroast® Coffee has introduced a line of their coffees into the Nature's Market sections of Cincinnati-area Kroger Stores. Puroast is coffee that comes from a proprietary roasting method based on the traditions of coffee growers in Venezuela – the Coffee Grower's Coffee™. It's this roasting that produces not only a rich, smooth taste, but results in coffee with 70% less acid than leading brands tested, and 7 times the antioxidants of green tea.
"Puroast's combination of rich, smooth, gourmet quality and health attributes sets the coffee apart from other brands", says Puroast® CEO Kerry Sachs, " we were fortunate to learn about this roasting from coffee growers in Venezuela, and bring their excellent brew to Kroger's and Cincinnati coffee drinkers."
The company has a variety of products in both US and international markets, including a line of single-serve, Keurig®-compatible cups.
In December, Puroast also launched a new line of espresso capsule products. Puroast is the first American-based brand to launch into the rapidly growing espresso capsule market, originally brought to market by Nespresso®.
Sachs adds, "The espresso capsule is very exciting for us to provide – Puroast's savory, less bitter flavor is appealing to those who have experienced the great espressos of Europe and Central or South America, but are disappointed with US brands. Our Coffee Grower's Coffee™ roasting method brings international-quality espresso stateside." Sachs says that they will also be commencing distribution in Ohio this spring through Ohio-area food and office coffee service providers.
Puroast has House Blend and Dark French Roast coffees available in single serve, Keurig-compatible as well as 12oz packaging at Kroger. For more information please visit the company's sites http://www.puroast.com, http://www.facebook.com/puroastcoffee, and @lowacidcoffee, where there is a wide range of flavors available for purchase, special offers, coupons and more information on the company's unique history and research on the health advantages of Puroast Coffee.