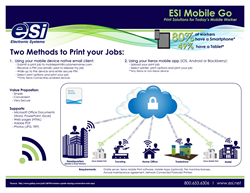 Maximize the efficiency of today's Mobile Worker, with ESI Mobile Go.
Virginia Beach, VA (PRWEB) January 07, 2015
The popularity of the phrase "work smarter not harder" is right up there with "buy low and sell high." These statements became clichés in business because these tactics really do help businesses succeed; but how does a company actually do it? How does a company make their workforce more productive without adding additional employees or overworking their current workforce? The company can start by embracing the rising trend of mobility, and maximizing the efficiency of today's Mobile Worker.
With ESI's new Mobile Go solution, companies can now utilize the power of their employee's smartphones or tablets to print. Many companies have started to adopt the BYOD (bring your own device) concept to allow employees use of their personal devices to transact company business.
Mobile Go allows employees to print to any enabled multi-functional printer via their mobile device. From photos to PDF's, ESI's Mobile Go is a simple, convenient and secure way to print a variety of documents. With two methods of printing, employees can use their mobile device's native email client or opt to use the official mobile app to submit their print job. Mobile Go also provides employees print options like collating, stapling and other advanced finishing options. In addition Mobile Go allows for secure printing, where print jobs are only released from the printer, once a unique code is entered at the device. This security feature, ensures sensitive print data remains secure.
With ESI's Mobile Go, employees can conveniently print what they need when they need it. By eliminating the need for pre-printed documents, companies cut down on file space and wasted paper from outdated or unused documents as well as security risks because sensitive data won't be left lying around. Electronic Systems is excited to launch this new offering to the marketplace, and enhance its solution portfolio for today's Mobile Worker.
Electronic Systems, Inc. (ESI) delivers market-leading technology solutions, exceptional service and consulting expertise to businesses and organizations in Virginia, Metro DC, Maryland and North Carolina. Founded in 1980, ESI is today the Mid-Atlantic region's largest provider of customized, scalable, end-to-end information technology and document technology solutions.
ESI customers enjoy the benefits of a local partner for personalized service, plus world-class products and the most comprehensive technology solutions available today. Headquartered in Virginia Beach, Virginia, ESI has offices in Hampton, Richmond, Charlottesville, Lynchburg, Roanoke, Northern Virginia / DC, Columbia, Maryland and Elizabeth City, North Carolina.
ESI is a wholly owned subsidiary of Global Imaging Systems, a Xerox Company. For more information, visit http://www.esi.net.