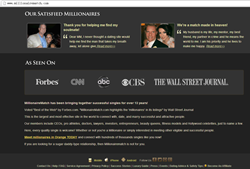 Los Angeles California (PRWEB) January 07, 2015
Members of millionaire matchmaker, MillionaireMatch.com, came together to discuss plastic surgery and many of them said it didn't matter whether a person decided to get plastic surgery or not. The decision should be made by individuals.
Why do people choose to undergo plastic surgery? It is true that everyone wants to be the very best they can be, but is going under the knife the best option? People opt for cosmetic surgery when they are unhappy with their looks and have low self-esteem. Members on MillionaireMatch.com discussed that there was no harm in getting minor surgeries to boost confidence and improve looks. Plastic surgery makes people look young and beautiful; however, plastic surgery requires maintenance because it makes the skin lose its natural elasticity.
Good looks are not the only important thing to date a millionaire. It helps a great deal to have a good personality. It is true that good looking people might be more popular but people with charm, wit and intelligence are all liked by millionaires. It was also found that men and women both get BOTOX and plastic surgery, but women were more likely to get plastic surgeries such as nose jobs. However, the most important thing for the members was to meet a real partner.
Members on MillionaireMatch.com also discussed about celebrities getting plastic surgery. Many public figures choose to get surgery to improve their looks but some of them have gone terribly wrong. Not even celebrities have been able to escape the wrath of botched surgeries! At the end of the discussion the conclusion was that people should do whatever makes them happy and if it is plastic surgery that will make them happy then they should get it.
However just a friendly reminder, be careful before getting any surgery and be armed with all the information people might need.
MillionaireMatch also provides the latest luxury information and luxury brands for its members to know more about millionaire and their lifestyle.
Millionaire dating tips offer useful tips for people to know how to date a millionaire, how to write a millionaire dating profile etc.
About MillionaireMatch
MillionaireMatch.com helps people meet other attractive singles. It has been functioning for 13 years and is one of the leading websites in this area. It has received numerous awards such as Forbes – 'Best of the Web' award. It doesn't matter what your area of interest is as the website has top professionals from every field. On MillionaireMatch.com you can find a millionaire partner, best suited for you.