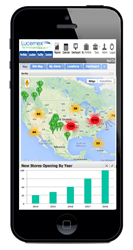 I look forward to continuing to drive our existing customer's success while also expanding the company into new markets globally
Dallas, TX (PRWEB) January 07, 2015
Lucernex Technologies, the leading provider of True Cloud delivered Integrated Workplace Management System (IWMS) solutions, announced today that Joe Valeri has been promoted to President and Chief Executive Officer effective immediately. Lucernex's former CEO, Michael Nuzum, will continue as Chairman of the company's board.
"As one of the original company founders, I am honored and excited to be taking the lead as we enter a new period of rapid growth", said Valeri. "I look forward to continuing to drive our existing customer's success while also expanding the company into new markets globally."
In addition to co-founding Lucernex in 2000, Valeri was the Vice President of Products and Chief Information Officer. He led the design and development of the original Lucernex Store Lifecycle Management (SLM) and Integrated Workplace Management (IWMS) solutions, which are currently managing hundreds of thousands of locations in the retail, restaurant, hospitality, engineering and construction industries.
Valeri has more than 15+ years of experience building and significantly growing software companies. He has been serving as Lucernex President since 2009 leading Lucernex's move into the True Cloud. Prior to returning to Lucernex in 2009, he served as vice president and CIO of Clinical Trials & Surveys Corp. (C-TASC) in Baltimore, Maryland where he led the company's transition from a pure consulting firm to a technology provider by translating C-TASC's sophisticated capabilities into re-sellable clinical trials technology products. Prior to joining C-TASC he served as chief technology officer and head of enterprise product management for Accruent helping to spur their rapid growth. Valeri began his career with Marriott International, leaving Marriott in 2000 as Senior Director of Property Development Systems.
Valeri holds an MBA in Finance from the R.H. Smith Business School and an M.S. in Decision and Information Technology from the University of Maryland.
About Lucernex
Founded in 2000, Lucernex Technologies provides retail and corporate real estate professionals with powerful cloud-based solutions to manage the lifecycle od stores and locations. All Lucernex solutions were designed for managers of large prototypical real estate portfolios to manage any size portfolio of leased and owned properties. Fortune 500 companies in the corporate real estate, hospitality, heathcare and retail industries use Lucernex Technologies solutions every day to ensure compliance, mitigate risk and empower effective growth. As an innovative leader in cloud-based real estate solutions, Lucernex continues to grow its customer base by applying its Cloud software expertise and real estate development insight to provide advanced tools and services for business. For more information, please visit http://www.lucernex.com.