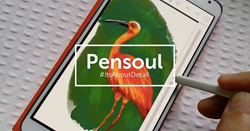 With Pensoul, we are making it easier for graphic design professionals and enthusiasts alike to create graphics and take notes on the go.
Los Angeles, CA (PRWEB) January 07, 2015
FXGear, a pioneer in computer graphics software and engineering, today announced that Pensoul, a powerful and revolutionary vector engine-based sketch app, is now available in the Google Play store. The app will have new features including social sharing service.
Pensoul empowers users to create, design and craft a wide array of notes and graphics with a simple swipe of the finger. Users can add intricate details to their work without compromising graphic quality, as Pensoul allows magnification up to 1 million times. Plain text files like recipes, lecture notes, planners can be enhanced by stunning graphics and designs. Travel journals, photo albums and sketchbooks are easier to create and share with Pensoul's intuitive features.
In addition, Pensoul's new social sharing features enable users to upload and share their creation through the app and web for publishing and collaboration. The work history is observed in the data, so multiple people can participate in the creation.
"Our latest mobile graphics engine is giving users creative freedom to sketch and imagine as big as they want and share with the Pensoul community site, which will be launching in the beginning of February," said Chang Hwan Lee, CEO of FXGear. "With Pensoul, we are making it easier for graphic design professionals and enthusiasts alike to create graphics and take notes on the go. From the beginning to the end of creation, we want to empower our users by giving them an innovative tool at their fingertips to perfect their craft and share it with the world."
Creation on the go is simplified as users can use their fingers or a tablet dedicated pen with various styling tools on their Android OS smartphone. Graphic designers can easily review and edit their creations, instantly moving back in time of the design with the time slider, to the desired point they wish to edit. Pensoul also supports the latest in 3D printing technology, allowing users to bring to life a simple 2D sketch, turning it into a three-dimensional structure and print it with various materials.
Pensoul is currently available for free in the Google Play store and works with a range of devices supporting Android 4.0 and above. Currently supported devices include the Samsung Galaxy Note 2, 3 and 4, as well as the Galaxy Note 10.1 and 12.1, with compatibility on additional devices including iphone soon to be available. For more information on Pensoul, visit Google Play Store.
About FXGear
Founded in 2004, FXGear continues to develop various cutting-edge computer graphics technologies. Originally established as a computer graphics software developer, it has expanded into developing virtual human technologies, mobile graphics engines, virtual reality technologies and more. The company is at the core of the computer graphics field and has acquired more than 27 patents in Korea, USA, Taiwan and Japan. FXGear technology has been used in major motion pictures and university courses, as well as for personal and business settings. For more information, visit http://www.FXGear.net.