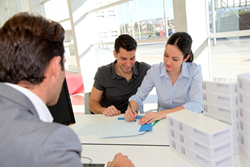 the index reached 104.8 in November, up 0.8 percent compared to the previous month
Chicago, IL (PRWEB) January 06, 2015
The Federal Savings Bank was pleased to see that the latest pending home sales index from the National Association of Realtors, released on December 31st, showed that the housing market continued to see positive gains in November with a rise in the number of contract signings.
The report released at the end of December 2014 found the index reached 104.8 in November, up 0.8 percent compared to the previous month. The most recent reading revealed housing sales grew at their fastest pace since August 2013 after expanding 4.1 percent in November from the same period last year.
NAR Chief Economist Lawrence Yun said home buyers were more confident about purchasing a house, resulting in more home sales.
"The consistent economic growth and steady hiring we've seen the second half of this year is giving buyers enough assurance to consider purchasing a home before year's end," Yun said. "With rents now rising at a seven-year high, historically low rates and moderating price growth are likely to entice more buyers to enter the market in upcoming months."
Economic growth leads to increased consumer confidence
Freddie Mac predicts the market for home purchases will rise in 2015, helping to lift up the real estate sector. Frank E. Nothaft, chief economist for Freddie Mac, said the economy could grow 3 percent in 2015, which could mean a greater number of home sales. Nothaft believes that while 2015 is expected to see higher housing prices and interest rates, the increased wealth experienced by consumers in a positive economic climate could help maintain housing affordability.
"While higher interest rates generally detract from housing activity, when they occur with strong job and income growth, the net result can be increases in household formations, construction and home sales," Nothaft said in a statement. "Our view for 2015 is exactly that, namely, income and job growth offset the negative effect of higher interest rates and translate into gains for the nation's housing market."
Key changes in the housing market and mortgage lending have allowed more consumers to enter the market after housing affordability increases. As credit and lending standards have loosened and consumers are allowed to put down less than the standard 20 percent, housing activity will likely grow.
In 2015, NAR projects existing-home sales will increase to 5.30 million, up from the forecasted 4.94 million for 2014.
First-time home buyers looking to finance their home purchases can contact the Federal Savings Bank, a veteran owned bank, for more information about the home buying process.