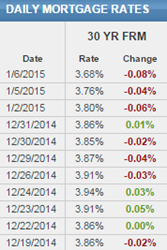 First-time home buyers that understand there is a risk in 2015 of the Fed raising interest rates have been keen to obtain their mortgage now
Chicago, IL (PRWEB) January 06, 2015
Peoples Home Equity is pleased to inform first-time home buyers that the nationally quoted 30-year fixed mortgage rate fallen for the 3rd consecutive day. In such a relatively low rate environment, Peoples Home Equity expects to see continued strength among mortgage applications.
As shown on MortgageNewsDaily.com the nationally quoted 30-year mortgage rate has fallen to an attractive 3.66%. Tuesday's decent marks the 6th day the 30-year rate has fallen in the past 7 days. Rates are in a strong downtrend due to weakness in global markets. As far as the world is not growing as much as it used to, rates do not need to rise to curb inflation. However, in the United States, an economy that grew 5% in the 3rd quarter of 2014, growth is high and the Federal Reserve is strongly considering a rate hike of its central Feds fund rate. First-time home buyers that understand there is a risk in 2015 of the Fed raising interest rates have been keen to obtain their mortgage now while loans are still affordable. Now is certainly a great time to get a purchase mortgage while home prices are low yet rising giving buyers the opportunity to build equity soon after they move in, especially is upgrades are added.
Weekly mortgage applications will be released tomorrow, one can see tomorrow data announcement on TradingEconomics.com. Last week, applications posted a 0.9% week-over-week rise, less than forecasts around 3%. Peoples Home Equity anticipates a 2nd consecutive week of rising mortgage applications thanks to recent fall in 30-year mortgage rates. First-time home buyers are eager to purchase a property instead of paying rent. Existing home owners were thinking they may never get an opportunity to refinance given their already low locked rate, but now is a great time to lock both a purchase mortgage or refinance loan.
Contact a Peoples Home Equity loan officer today at: 262-563-4026