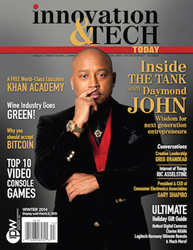 "With Daymond John and Sal Khan leading the way, we've produced a heck of an issue filled with interviews of some of the world's most innovative minds," said Warner.
Denver, CO (PRWEB) January 07, 2015
Two of the most successful, innovative and influential men in the world, Shark Tank co-star Daymond John and Khan Academy creator Sal Khan, are among those featured in the Winter Issue of Innovation & Tech Today Magazine. The magazine is now available on newsstands nationwide, as well as digitally through Apple Newsstand, Google Play, Nook, Fire, Magzter and Zinio.
In addition, Innovation & Tech Magazine is a featured magazine at International CES 2015, the world's largest consumer electronics show. Thousands of copies of Innovation & Tech Today Magazine will be available to show attendees January 5-9 in the media bins around the show.
"With Daymond John and Sal Khan leading the way, we've produced an issue filled with interviews of some of the world's most innovative minds," Publisher Charles Warner said. "It is an especially insightful issue. When you combine it with our 360-degree coverage of the latest in innovation and technology, I think it is our best issue yet."
John and Khan offer incisive views on entrepreneurship and education, while also sharing their own success stories and those of others under their mentorship. Shark Tank is the hit show in which new entrepreneurs pitch their businesses in hope of getting investment dollars and is conducting auditions at CES 2015. The Khan Academy serves millions worldwide with a broad spectrum of free online courses and teacher services.
The Winter Issue of Innovation & Tech Today also includes conversations with former Pixar Chief Technology Officer Greg Brandeau, Consumer Electronics Association CEO and bestselling author Gary Shapiro, The Customer Funded Business author John Mullins, Larry Ovalle talking about the 50th anniversary of Jacuzzi, and Lockheed Martin VP Leo Mackay, who discusses his company's leading-edge sustainability programs.
Rounding out the Winter Issue are Napa Valley's green technology usage in winemaking, finding the best digital camera, 3D printing in fashion, coverage of the CEDIA 2014 home automation show, gaming and entertainment, and stories on security, wearables, green technology, communication, and more.
Concerning International CES 2015, Warner said, "We're excited about being a major part of CES 2015 this year. The show has expanded greatly, and we're entering in at a very dynamic time in the industry, between the Internet of Things, connected car technology, sustainability, medical and fitness technology, and the fast-growing home automation and wearable worlds.
This is part of our strategy to align with major shows and conferences, including the U.S. Science and Engineering Festival, Digital Book World, Sustainable Brands, Electric Drive Transportation Association, and CEDIA," Warner added.
The magazine's coverage of the show begins in the Winter Issue, with a "sneak peak" conversation with CEA president and CES 2015 executive producer Gary Shapiro. There will be daily social media coverage on Twitter (@InnoTechToday, #InnoTechToday) and Facebook (Innovation And Technology Today), along with extensive online coverage on http://www.innotechtoday.com. Full print coverage on the show and its many components will be featured in the Spring Issue.
Innovation & Tech Today is the flagship publication of Innovative Properties Worldwide, based in Denver, CO, with satellite offices in Clearwater, FL and Los Angeles. Subscriptions are available directly at http://www.innotechtoday.com/subscribe-now/ and individual copies can be purchased for $9.99 at every Barnes & Noble in North America as well as every Micro Center. The company also provides advertising and sponsorship onsite at high profile events, as well as helps companies develop cross platform marketing initiatives with high profile properties, expos, and trade associations.
For more information, contact Charles Warner or Kelsey Elgie at (720) 708-4250.