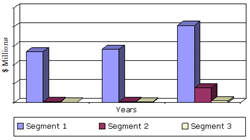 Global Market for Agricultural Biotechnology to Reach $46.8 Billion in 2019
Wellesley, Mass. (PRWEB) January 07, 2015
BCC Research (http://www.bccresearch.com) reveals in its new report on agricultural biotechnology, the global agricultural biotechnology market was $27.8 billion in 2014 and is expected to grow at a compound annual growth rate (CAGR) of 11%, to reach a forecast value of $46.8 billion in 2019.
In the past 20 years, biotechnology has helped to revolutionize the modern agricultural industry. Biotechnology tools, including DNA sequencing, biochips, RNA interference, synthetic biology and genome editing tools, comprise a small but high growth segment of the industry. These tools enable the development of better plant breeding programs, as well as novel plant traits, thus enhancing downstream agricultural markets.
"North America and South America are the leading geographic markets for agricultural biotechnology products," says BCC Research analyst John Bergin. "South America and Asia are forecast to have high growth rates in their markets due to favorable regulatory climates as well as new transgenic crops. Demand for biologicals in Europe will help drive growth in that market."
The market growth for biotechnology tools is aided by the ongoing revolution in genomics, which is rapidly changing how plant breeding is done and is accelerating the discovery and implementation of new plant traits.
Agricultural Biotechnology: Emerging Technologies and Global Markets provides a comprehensive analysis of the agricultural biotechnology industry, with an emphasis on products and technologies that are commercially important in the 2014 to 2019 time period. This analysis provides a quantitative basis and market context for companies to make strategic choices about participation in the agricultural industry.
Editors and reporters who wish to speak with the analyst should contact Steven Cumming at steven.cumming(at)bccresearch(dot)com.
About BCC Research
BCC Research publishes market research reports that make organizations worldwide more profitable with intelligence that drives smart business decisions. These reports cover today's major industrial and technology sectors, including emerging markets. For more than 40 years we've helped customers identify new market opportunities with accurate and reliable data and insight, including market sizing, forecasting, industry overviews, and identification of significant trends and key market participants. We partner with analysts who are experts in specific areas of industry and technology, providing unbiased measurements and assessments of global markets. Recently selected as the world's greatest market research company, BCC Research is a unit of Eli Global, LLC. Visit our website at http://www.bccresearch.com. Contact us: (+1) 781-489-7301 (U.S. Eastern Time), or email information(at)bccresearch(dot)com.