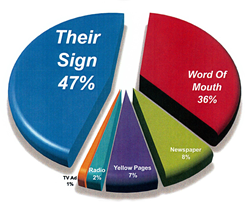 Signage... is the single best way to bring in new customers against other advertising media and marketing tools.
Torrance, CA (PRWEB) January 07, 2015
Signtronix, the country's leading manufacturer of signs for small business, conducted a national survey, comprised of thousands of small businesses, about the impact signs have on small business revenue and customer traffic. The results show that signage brought in 47% of the customers surveyed, which is the single best way to bring in new customers against other advertising media and marketing tools that are typically used by small business owners today.
From a survey conducted by over a thousand businesses, answered by tens of thousands of their customers, it was found that signage was the leading reason why people learned about and became a customer of the business. 47% came in because of the sign in front of the business versus only 36% because of word of mouth, 8% because of a newspaper ad, 7% because of the yellow pages, 2% from radio and 1% from TV.
"This report just confirms what we've known for many years now," said Tom Johnson, President of Signtronix. "We've seen the impact our signs have had on our customers for over 50 years now. We've received thousands of letters letting us know that our signs have helped our customers grow their businesses – usually by 40% and more. Here's a quote from one customer that we just received this week:
"I am writing you this letter as a huge Thank You for the sign that you sold me.
Before the sign, visibility from the street was sparse at best. After the Signtronix EMC Sign was installed visibility from the road increased 10 fold. The walk-ins have increased and the sales have an increase of 35-40% more than before the sign was installed.
Comments about the sign have made the store visible to the public and it's had a more positive reaction than I had ever expected.
Thank you."
Larry Cox
Galaxy Comics
Wichita Falls, TX
"One important note is that these results do not pertain to just any type of sign out there. This is specific to the type of sign that Signtronix designs and manufacturers. There is a significant difference in the performance of signage," said Tom Johnson Jr., marketing representative for Signtronix."
"Decades of research in the area of storefront signage have allowed us to understand how humans react to different types of signs," said Tom Johnson Jr. "Signs with just words, words, words on them tend to be ignored. They don't trigger the brain like images do. We think and remember in pictures. Our signs are specifically designed to combine these elements together. The image on a Signtronix sign attracts the attention of potential customers, then the text on the sign or signs reinforces and clarifies the visual message. The bottom line is a person will always see and react to a sign with graphics – which generates more customers for our customers."
About Signtronix
Signtronix (http://www.signtronix.com) is the premiere sign manufacturer for small businesses across the United States. The company was founded in 1959 and has helped over half a million customers in its 55 year history. Signtronix offers many different sign products from outdoor electric signs, LED message displays and indoor and window signs to help America's small businesses get the exposure they need to their passing public and potential customers. Signtronix is proud to be an ESOP (employee stock ownership plan) company which is owned and operated by its employees. Join Signtronix on Facebook at http://www.facebook.com/signtronix or join us on Twitter at http://www.twitter.com/signtronix.
To learn more about Signtronix please contact Tom Johnson Jr. at trj2(at)signtronix(dot)com.