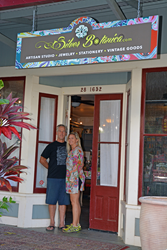 "Our philosophy is actually quite simple. SilverBotanica jewelry should stir our connection to beautiful places around the world. This line of jewelry lets the person wear a little bit of paradise at all times, keeping the journey alive."
Honomu, Hawaii (PRWEB) January 09, 2015
Artisans Alicia Hanson and Brad Johnson have opened a new artisan studio and retail store in Honomu located at the gateway to Akaka Falls, on the Hilo side of the Big Island of Hawaii. Brad and Alicia live in Honomu and travel to tropical locations around the globe. All of their original jewelry designs are created using the lost wax casting method. Each design is created in wax and then cast in their studio. Visitors are welcome to tour the studio and learn first hand the process of lost wax casting and silversmithing. Classes and workshops are available.
Wearing Paradise
"Our philosophy is actually quite simple. SilverBotanica jewelry should stir our connection to beautiful places around the world. This line of jewelry lets the person wear a little bit of paradise at all times, keeping the journey alive." The SilverBotanica collection captures tropical flowers, brilliant color palettes and lush imagery, then weaves them into jewelry that reflects these global inspirations.
Tropical Themes
So this season, what accessories amplify one's personal style and bring paradise into our wardrobes? The list includes bold statement rings, sterling silver floral pendants, double wrap sakura bracelets with leather braided cords, long brightly colored silk tassel earrings and silver bangle bamboo bracelets. "Our SilverBotanica line is a sterling silver jewelry collection that evokes the pleasures of paradise" said Alicia Hanson, designer of SilverBotanica.
Barefoot Designer
Alicia Hanson grew up barefoot on the beaches of the Big Island and Oahu. Her designs are influenced by Hawaii's lush tropical plants and multi-cultural beach lifestyle. SilverBotanica jewelry has a fusion flare of Hawaiian, Asian and tropical styles that create modern, iconic designs with a feeling of paradise. The collection, priced from $16 to $330, features over 120 styles of necklaces, bracelets, earrings and rings that are available in sterling silver and white bronze.
Your Inner Traveler
These designs tap into your inner traveler lifestyle with designs inspired by tropical locations like Bali, Indonesia, Java, Belize and Hawaii. Explore gorgeous passion fruit flower pendants on slick silver chains, or papaya blossom earrings, or Sakura "cherry blossom" bracelets. If you want to wear Bali for the day, try the Bohemian Bali necklace. These sterling silver handmade pendants and earrings have tropical patterns accented with Japanese "silk" chirimen cord and beautiful kimono-style designs in bold colors. They're both lightweight and beautiful.
From Exotic to Real Life
It's easy to carry your tropical reflections and style with you when you wear this hand-crafted jewelry. Shoppers can view SilverBotanica's new spring and summer collections at the retail store up the street from Mr. Ed's Bakery in Honomu or online here: http://issuu.com/aliciadaiglehanson/docs/silverbotanica-lookbook2013links. Browse the assortment of spectacular pieces, in beautiful sterling silver or white bronze at http://silverbotanica.com/jewelrystore/. Visitors are welcome to tour the studio, see the process of lost wax casting and silversmithing, or sign up for classes. The artists at SilverBotanica believe that all of us should have access to a bit of paradise at all times. All of the jewelry creations are hand made at the studio location in Honomu, Hawaii. The artisan studio in Honomu also features unique paper stationery items, purses and vintage wares from across the globe.
About Hi Octane Industries
Brad and Alicia are also the founders of Hi Octane Jewelry. Their revvv'd up line of hot rod jewelry is inspired by their love affair with old cars. As America's favorite hot rod jewelry designers for more than 10 years, Hi Octane Industries has provided exceptional service and delivered fabulous jewelry to satisfied customers all over the globe.
+++
If you would like further information about SilverBotanica Jewelry | Hi Octane Industries additional images or to schedule an interview, please contact Alicia Hanson at 949.547.3859 or alicia(AT)silverbotanica.com